Did you missed an analysis on commodities? Well, we thought of updating an older analysis on WTI Crude Oil, because a lot of interesting things have happened since then.
In our last analysis, WTI Crude Oil Looking Bullish More than Ever, we have made a technical analysis on the evolution of the WTI Crude Oil and we were expecting a breakout through 97.45$ per barrel. Our setup was helped by a series of fundamental events.
In Egypt a riot started against the President Mohamed Mursi which couldn't be settled not even after a clash between the security forces and the supporters of the president.  This political problem had a big impact over the WTI Crude oil prices because there are shipments which go through the Egypt's Suez Canal.
Last week because of the problems in Egypt, combined with a fall of 10.3 million barrel in the US stock piles, the price of WTI broke 100$ per barrel. The up move was sustained by the good US labor market data and got up to 104.50$ per barrel this week. Tomorrow the API (American Petroleum Institute) will release their estimates for this week and it is possible for the price to react again.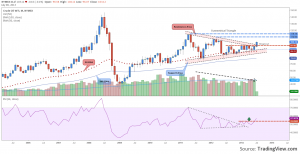 Chart: WTI Crude Oil, Monthly
Getting to the technical analysis part, we will see that this month the price has broken the 97.45 resistance and got up to 104.50. If the direction would be maintained the next resistance it is found at 110$ per barrel. It is pretty important to look for a throwback to 100$ per barrel level and also to see how this month would end.
If the breakout will be confirmed we should project the target of the triangle on the upside, while if it will be only a false breakout we should look for a drop back under 90$ per barrel.
Why did WTI Crude Oil Rallied above 100$ per Barrel?
by
Razvan Mihai