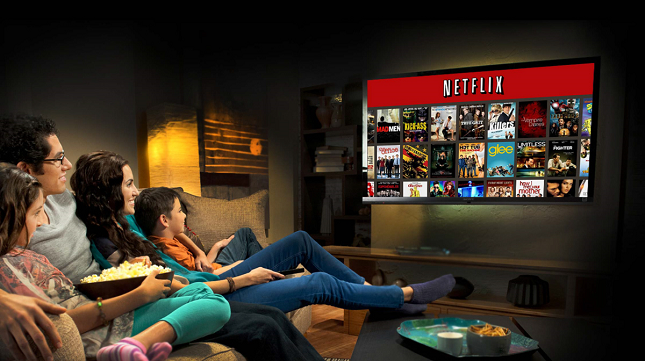 Why Netflix?
Netflix got my attention after I have read a bunch of articles about how insanely overinflated this company's stocks really are. So, I thought the best way to see if critics are right or not is to learn as much as possible about Netflix and trying to understand their business model in order to express my opinion regarding their valuation. After doing the research I realized there is too much to be said in just one article post and I decided to split it in two parts.
In the first one, which one you are reading right now, I will talk about Netflix business model and explain what makes this company function and which factors are crucial for its growth and profitability. In the second part I will analyze the evolution of Netflix business key metrics and express some opinions on the company's medium-long term prospects and I will also deliver a technical analysis for the short-term trend prospects.
"Netflix is the world's leading Internet television network with over 40 million members in more than 40 countries". This is the company unique selling proposition and you can find it on their official website. But, if you want to see beyond that we shall take its business model blocks piece by piece in order to see the big picture.
Which are the values Netflix deliver to the customers?
We will start with the value Netflix creates for its customers, also known as  "Value Propositions", which should not be taken for what the company sells to its customers. Netflix sells content, movies and TV shows by an internet platform whereas its value propositions are:
[sociallocker]
-Newness
-Convenience / Usability
-Customization
- Price
In other terms, customers have access to unlimited commercial free viewing, including exclusive TV Shows and Netflix own-made productions (i.e. House of Cards) that you cannot watch unless you are a member of Netflix media streaming service. Hence, its extensive exclusive content is paramount and represents one of the key metrics we should pay attention to in order to see how it influences revenues. However, the company makes efforts so that the newness of the content to be backed up by its quality too and if we take into account that "House of Cards", Netflix own-made production, won an Emmy award in September, they kind of managed to exceed the market expectations.
Convenience (usability) is brought by the easiness you can have access to the service Netflix offers. The customers need to have an internet connection to be able to connect to one of the many platforms on which Netflix runs and then choose whatever they want to watch. Also, they have the possibility to pause and fast-forwarding it along with setting personal taste preferences which is translated into a customized browsing, giving full control over their viewing experience. On top of this, the customer can watch his/her favorite TV show or movie in a commercial-free way because its content is not ad-supported.
Price is a value proposition relative to the huge number of hours of TV Shows and Movies (more than one billion hours!!!) Netflix can provide on their platforms. I used the term relative because the price of two competing companies is either the same, which is 7.99$ per month (Hulu), or a bit cheaper (Amazon Prime costs 79$ a year that is 6.60$ per month), but Netflix exceed these two competitors by size of the content.
Who is Netflix creating value for?
Basically, the customer target is the mass market because the database that Netflix possess can satisfy everybody's tastes when it comes about movies and TV series. More structured, the customer segments are the domestic ones (United States) and the international ones, which comprises Canada, Latin America, UK, Ireland and Nordic countries. At this moment Netflix is present in more than 40 countries.
How do Netflix reach its Costumer Segments?
Being an online subscription-based entertainment video service, the major channel through which customers are reached is online advertising, that is social media and web-browsing. This is the place where the chances to reach a potential customer are higher if we take into consideration the fact that those specific persons already spend some of their time in the online "environment", so they will tend to be more open to the idea of using and paying for an online service, finding it more appealing.
On the other hand, broad-based media(TV and Radio) is important as well because this is the field where Netflix can find those potential customers the company have to persuade that internet video streaming is the future and it also  suits their needs very well at an affordable price.
Regarding strategic partnerships, they have their specific importance which should not be underestimated and have to be looked at as a long term strategic plan.
What type of relationships do Netflix costumers expect it to establish?
When your business is heavily based on your subscribers, you really want, first of all, to establish an acquisition-relation type and then to retain them by making loyal to your service. Having in mind that the value Netflix delivers is a no-commitment one, they have to make great efforts to always bring exclusive high-quality content, so that the subscribers would become attached to their content. However, by the convenient and easy-to-use online platform they put at their customers disposal, Netflix create an automated-services type of relation. Hence, the company needs to focus on continuous service improvements that will enhance subscribers' satisfaction and retention rate.
Which are the values are Netflix customers willing to pay for?
The only revenue stream Netflix relies on is the monthly no-commitment membership fee. Namely, the customers pay 7.99$ per month for a membership status which allow them to watch whatever they want from Netflix content database without being committed to a contract on a fixed number of months, every customer being free to go when they consider to. Hence, the number of subscribers is of a paramount importance for the revenues, therefore for the profitability and for the future of the company.
Who are Netflix key partners?
In order to make continuous service improvements, Netflix engages in automatically and constantly optimization of the streaming bit-rate to each user's Internet speed. To make this happen, the company needs to collaborate with internet providers. Besides this basic partnership, every change in the internet providers industry affects in a round-about way Netflix, because its core business is founded on online interdependent platforms.
The other two key partners are the content providers: television networks and motion picture studios, as FOX, Universal, etc. In order to deliver content on its platforms, Netflix pays for licenses for TV series and movies it provides the subscribers with. A key aspect to be considered is the exclusive rights for specific media shows Netflix pays in order to make sure they bring original content to their customers. Is Netflix financially strong enough to compete with HBO? In this context, how much can motion pictures studios raise the price for exclusivity rights not to hurt Netflix? I will answer these questions in the second part of my analysis.
What key activities Netflix value propositions require?
First of all, Netflix core business is an online-based service, so they must improve their platforms in order to enhance its customer satisfaction. Also, providing content is another key activity which helps Netflix to deliver value. Nevertheless, you cannot have a business if there are no customers and this is when marketing activity makes its appearance in order to help the business acquiring subscribers and generating revenues.
The first two are very important since they are directly linked to the contentment of customers, which greatly influence the number of subscribers who are willing to pay for what Netflix offers.
What key resources do Netflix value propositions require?
Top-quality streaming media infrastructure is a must if you want to retain your customers and to make your service user-interaction better and better. Also, Netflix needs to upload something on those platforms, which is content, and they have to pay for it so that they will be given the license to stream it on their multiple platforms.
For Netflix to be able to differentiate from its competition, it started to produce "in-house" content. This will also help the company to acquire and retain its customers since they can watch "House of Cards", which was a hit in the TV series industry, only if they subscribe to Netflix.
All resources are of major importance since their use makes effective the key activities Netflix value propositions require, aspects which will lead us to the importance of the key activities outlined in the above paragraph.
What are the important costs inherent in Netflix business model?
The costs come from the acquisition of the resources which makes possible the effectiveness of the key activities that are required by the Netflix value propositions delivered to the customers. They consists of technology and development costs, which funds streaming infrastructure improvements and original own-produced content; licenses costs, for the external content is brought online, and marketing, which description is self-explanatory. Thus, keeping the costs as low as possible is primordial for Netflix since they have three categories of costs and just one revenue stream.
So, what message does Netflix business model send us?
In order to grow its business and become more profitable (revenue stream and cost structure), Netflix core strategy is to grow its streaming subscription database domestically and internationally (customer segments). At the foundation of achieving this objective lies the well-being the customers get after purchasing Netflix service (value propositions). For to deliver top-quality value, keep the subscribers pleased and retain them (customer relationships), the company needs to buy the tools of the trade (key resources) from other third-parties (key partners) so that they can do their "magic" (key activities) and reach its customers (channels).
In the next part I will get into more details regarding the key growth drivers for medium&long term perspectives and I will also deliver a technical analysis for the short-term trend prospects.
[/sociallocker]
The Netflix Saga, Part 1: Understanding the Business Model
by
Alin Rauta