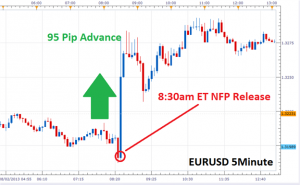 On 18th December, FED dropped the T bomb, starting to taper its aggressive bond-buying program to $75 billion a month. What happened then? EURUSD and Gold fell like a rock.
Three weeks after, the preliminary job market report, ADP, shows a number of 238K new created jobs and the forecast was 200K. Based solely on the ADP number, the FED was right to taper and the markets responded accordingly. The dollar strengthened and gold slipped no surprise whatsoever there.
Having these aspects in mind, which could be the scenario for today's NFP and unemployment rate publication?
There are two basic scenarios; they could come in divergence or in convergence. For the latter possibility, NFP will clearly have a bigger importance than the unemployment rate and the markets will be"NFP-driven". If the NFP indicator comes as least as strong as the expectations (196K), EURUSD could drop under 1.3580 and Gold under the support line from $1230. For the former scenario, the NFP indicator will still have greater importance, but by the end of the day the markets would have digested better the info and reaching equilibrium.
As a brief conclusion, having a NFP in line with the expectations, or better, rhymes with a stronger dollar and a weakened gold whereas a disappointing number of the NFP would give gold and EURUSD a boost.

Our Outlook For The First Non-Farm Payrolls In 2014
by
Alin Rauta