Apple Inc., as usual, released a new product for 2013. Actually this year there were two products released. Almost everybody expected the 5S to be made known, but there were rumors that a new and cheaper version of iPhone will be also released so that they will have a better leverage in competing with Samsung and others in this business.
The new iPhone 5S, top of the line model, looks identically  with iPhone 5, but it's got a better camera, a faster processor and Apple added a fingerprint scanner for a faster unlock. For this model customers will have to pay (just as for the last iPhone 5, when it was released) $650, or $199 with contract. They are keeping the same pricing strategy as before. While a new model is released, the price for the older models drops with $100.
The second model released this year is iPhone 5C. Well…this phone is nothing of what we were expecting. It is not a cheaper version for the customers to buy, but most probably it is a cheaper model of the iPhone 5 for Apple Inc. to build. It has practically the same functions as the model released last year, but it is made of plastic and comes in different colors (green, yellow, blue, pink and white). The price for the iPhone 5C it is $550, or $99 with contract.
Apple's strategy for this year is like always, to maintain the costs and raise their profits. The fact that they did not get on the market a cheaper version of iPhone might be a bet than could cost them some money, but we should wait for the sale results before throwing the rock.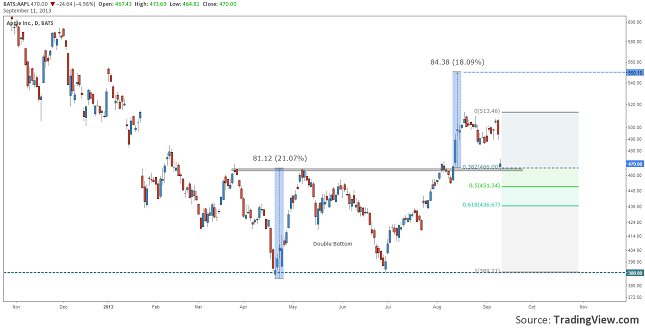 Chart: AAPL, Daily
From the technical point of view, the price of Apple's stocks was in an uptrend from July. After a short consolidation, today's opening was with a negative gap that brought the price all the way back to 465$ from 500$ per share. It seems that the new releases did not get the investors trust and confidence. At this point we can say that this drop could be only a corrective move for the prior trend and a retest of the Double Bottom's base line.
If the price will close, on a daily basis, under 466$ per share, there is a big possibility for the down move to continue all the way to a 0.618 Fibonacci retrace, at 436.67$. On the other hand a bounce from here could end up by covering the gap, or why not trigger a rally that would hit the Double Bottom's target at 550$ per share.
What Happened to Apple?
by
Razvan Mihai