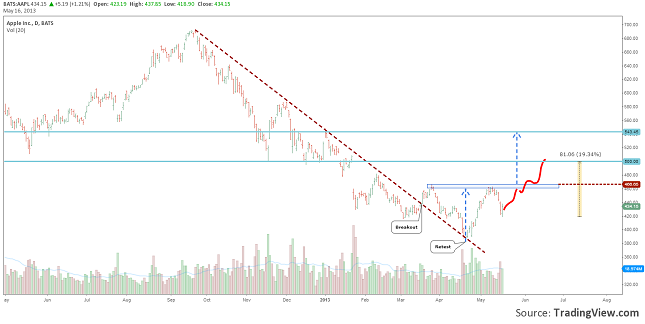 Chart: AAPL, H4
We were expecting at least a 5% drop in our last setup on AAPL (Trade Setup Apple Inc. Looking for a 5% Drop), but it fell almost 10%, retesting this way 50% of the up move.
Looking now at the latest price action we can see that the price broke the down trend line in March, retested it at about 1 month distance and rallied back to the last top. After this last down move we expect for it to get back right up to the $467 per share. At this level it could become very interesting.
If the confidence in Apple comes back, then we might see a breakout though the resistance and after that could rally to $500 per share. Overall it will be an almost 20% move from this low to the round level. On the other side if the price will not get through the resistance area we can expect another drop and maybe this time would get under $419 per share.
If our first and favorite scenario, with 20% rally, will prove to be the right one, we would have also an Inverted Head and Shoulders pattern, which has the full target above $540 per share.
Apple Inc. Might Pullback 20% and Retest $500 Level
by
Razvan Mihai