In our last analysis, regarding the evolution of oil (WTI Crude Oil Leading And Brent Is Following), we have showed you that West Texas Intermediate Crude Oil was talking a considerable advance in front of Brent Oil. One of the most interesting arguments was seen on the chart of the premium evolution between the two types.
After half of month, we saw that the second scenario that we believed in has been confirmed. The price of WTI has rallied to the upper line of the triangle while the price of Brent Made a new low and remained under 110.0 dollars per barrel.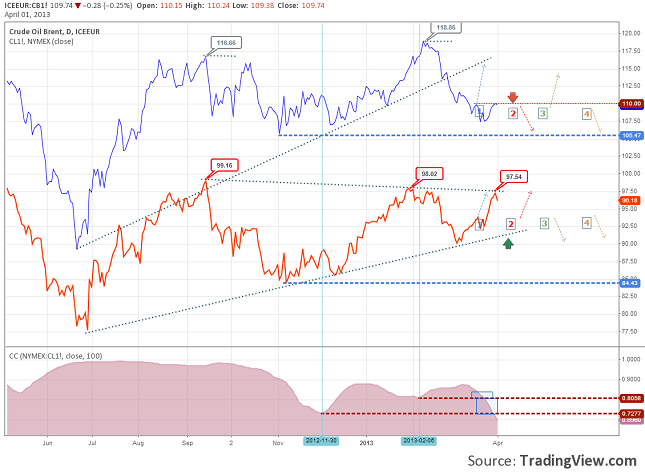 Chart: Brent Crude vs. WTI Crude
It shouldn't be a surprise for anyone that WTI managed to touch a high at 97.54. USA's economy is signaling a recovery, meaning that the demand for oil is rising, and this can also be seen on the evolution of the stockpiles published on each Wednesday. If the macroeconomic readings will continue to stay on the positive side, we might see a continuation of this rally. If the price will break the line of the triangle there will be a high probability for the price to touch $100 per barrel.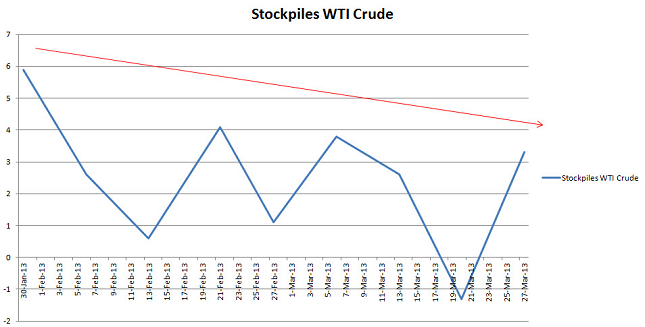 Chart: Stockpiles evolution of Crude for USA
While WTI demand rose, it seems that for Brent diminished. Europe's economy is not looking that good. February was a very week month as it could be seen from the economic readings. There is a chance for the price of this type of oil to come back to $112 per barrel only if it will be able to close over 110 level. This week will be full with publications from European economy; good news might trigger a rally.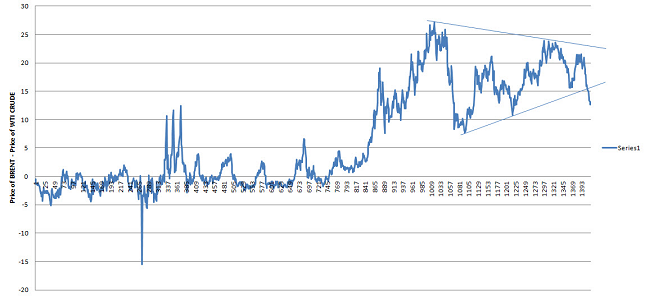 Chart: Premium Brent-WTI
Looking back to the premium evolution we will see that the lower line of the triangle had been broken, as expected, and now it sits at $13.
WTI Crude Oil Continues Rallying While Brent Stagnates
by
Razvan Mihai