Interval: Monthly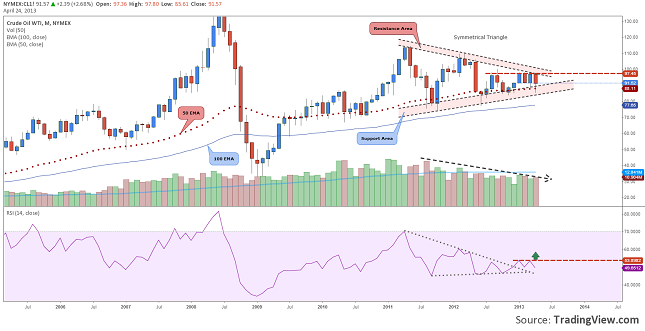 Have you looked on the monthly chart of WTI Crude Oil lately? From our point of view it looks bullish more than ever.
We can see that from April 2011 a symmetrical triangle was drawn. The triangle is limited by a support and a resistance zone. The inside lines are drawn on the closing prices while the outside lines were drawn on the shadows. One thing to note is the lower support zone which is thicker because of the longer shadows.
The volume has dropped, confirming the volume pattern of the triangle. The RSI 14 has broken the upper line of its triangle and consolidated under 53.90. We can also consider the distance between the 50 EMA (dotted) and the 100 EMA as a support area.
Its price has fallen pretty fast in the first part of this month, in the support area, and touched a low at 85.61. From that point, the price was rejected and now the WTI is traded over 90 bucks per barrel. A little higher, at 97.45, sits the 4 month resistance. If the price will break through this level we will not be surprised if it will easily break the resistance area and rally to the next highs around $110 per barrel.
If this month will end like this or maybe with a lower body and an even longer downside shadow, then another signal would appear. We will come back with an update and, why not, even a trade setup.
WTI Crude Oil Looking Bullish More than Ever
by
Razvan Mihai