The Chinese economy is slowing down and it is getting more visible with every week. The week data coming from the real economy forces the officials to take bold measures. The slowdown is affecting the commodities price, because the country imports less. The price of the industrial metals has fallen constantly for the past several weeks.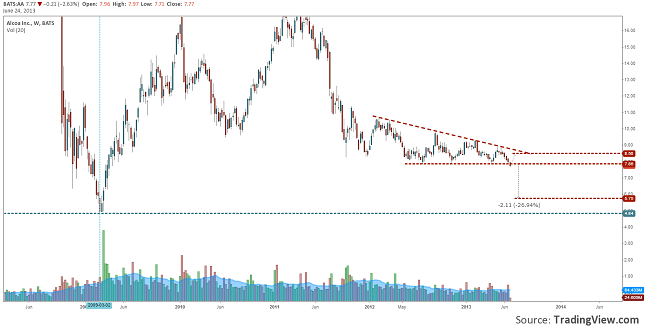 Chart: AA, Weekly
The price of aluminum has fallen almost 12% in the past 4 weeks. This drop had a negative impact on the Alcoa Inc. (AA) stock price. It has fallen 11.3% in the past 6 weeks.
A very important support is at 7.85 was tested 4 times in the last year, but only now the sellers pushed the price under it. This level is also the lower line of a descending triangle. If this week will close under lower that 7.85% we can expect a 27% drop to 5.75$ per share. Good support levels are to be found at 7$ and at 6$ per share.
A false break and a close above the 7.85 support could signal another recovery. For the upside the price targets are at 8$ and 8.5$ per share.
Price for Alcoa Inc. Fell Under a Critical Support Level
by
Razvan Mihai