Interval: Daily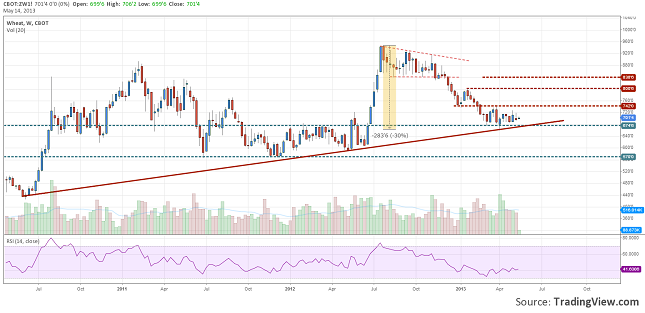 Looking at the evolution of Wheat price strictly from the technical point of view we will see that it hit a key level support. After its price touched a high at $9.44 per bushel it had dropped 30% back to $6.74 per bushel in 10 months.
In the same zone with the support level there is also a trend line which held the price above for almost 3 years. In this area the price has started a consolidation which could be either a continuation pattern or a reversal pattern.
All depends at this point on the weather. The price will be very sensitive at news regarding the weather but also at the forecasts of USDA regarding the crops and World Agricultural Supply and Demand Estimates (WASDE) reports.
So if it happens that the will fall under the trend line close under $6.75 per bushel, then it might not stop until it hits the next support at $5.70 per bushel. On the other hand if it will close above $7.4 level, then we can expect a recovery that will trigger more longs and get the price back up at $8 per bushel.
Wheat Price is Consolidating at a Key Support Level
by
Razvan Mihai