Interval: Daily
Alcoa Inc. is engaged in the production and management of primary aluminum, and alumina combined, through its participation in technology, refining, mining, fabrication and recycling.
The price of aluminum fell 8.5% and is likely to keep on falling in the next period because of the big worldwide offer. A lower price in the metal has reflected also in the price of Alcoa Inc. share price, which dropped 6.5%.
Yesterday after the close of the market, the company reported first quarter of 2013 earnings of $0.11 per share. This beat the $0.08 per share estimates of the 18 analysts covering the company.
In the Q1 2013 Earnings Call Transcript the chairman and CEO, Klaus Kleinfeld, said that "net income is the best net income since the third quarter of '11; EBITDA 16% up sequentially, 11% year-over-year; record profitability on the downstream, 20.9% EBIT margin to be precise."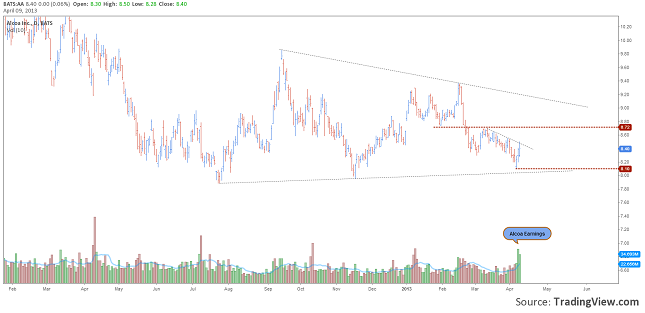 With all these good news that came, the price still did not managed to retest the latest high at 8.56. The session opened at a lower level, rallied to 8.51 but now got back to the same price as the close of Monday.
If 8.50 will be broken after all, then we might see a retest of 8.70 – 8.80 area. On the other hand a drop under $8 per share will mean that the price broke the lower line of a symmetrical triangle.
Earnings Calendar
Company Name

Time

Transcript

Wall St
EPS Est($)

Actual
EPS($)

BED BATH&BEYOND  BBBY   10 Apr

After Market Close

N/A

1.68

N/A

JPMORGAN CHASE  JPM       14 Apr

Before Open

N/A

1.38

N/A

WELLS FARGO-NEW  WFC    14 Apr

Before Open

N/A

0.87

N/A

CITIGROUP INC  C              15 Apr

Before Open

N/A

1.21

N/A

COCA COLA CO  KO            16 Apr

Before Open

N/A

0.45

N/A

GOLDMAN SACHS  GS         16 Apr

Before Open

N/A

3.74

N/A

INTEL CORP  INTC              16 Apr

After Market Close

N/A

0.42

N/A

JOHNSON & JOHNS  JNJ       16 Apr

Before Open

N/A

1.41

N/A

YAHOO! INC  YHOO             16 Apr

After Market Close

N/A

0.25

N/A

BANK OF AMER CP  BAC      17 Apr

Before Open

N/A

0.23

N/A

EBAY INC  EBAY                  17 Apr

After Market Close

N/A

0.54

N/A

GOOGLE INC-CL A  GOOG    18 Apr

After Market Close

N/A

8.79

N/A

MICROSOFT CORP  MSFT     18 Apr

After Market Close

N/A

0.75

N/A
Earnings Period Started - Alcoa Unchanged After Better Than Expected Earnings
by
Razvan Mihai