The kiwi struggled and managed to gain during the first two days of this week. The price of NZDUSD hit a high at 0.8431 but this gain was quickly erased until the ending of 14th of January. Even though the NZIER Business Confidence rose to 52, all the way from 38, it wasn't enough to maintain a higher NZD. Next week's main important release would be the CPI. Continue reading to see what is expected for the inflation in New Zealand, what are the other economic releases and what are the technical perspective.
Economic Calendar
REINZ HPI m/m – Monday (no hour scheduled). This is the indicator that shows the changes in the selling price of all homes. In November it rose with 1.6% and in December rose with 1.2%.
CPI q/q – Monday (21:45 GMT). In October the quarterly inflation rate was up with 0.9%, with 0.1% above analysts estimations. After the last quarter it is expected to be unchanged (0.0%). A bigger number could trigger attention for the investors the kiwi could gain back some terrain.
Business NZ Manufacturing Index – Wednesday (21:30 GMT). This is the level of a diffusion based on surveyed manufacturers. The December value was 56.7. This is usually a medium impact indicator.
Technical View
NZDUD, Daily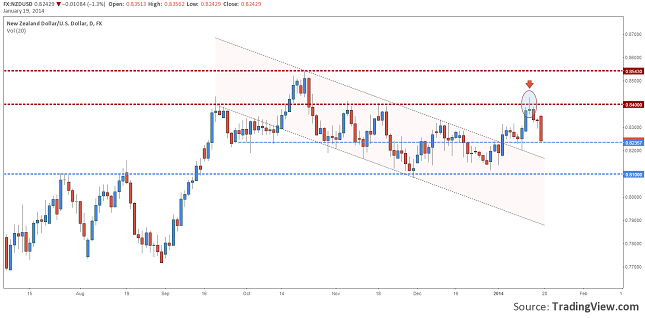 Support: 0.8235, 0.8100;
Resistance: 0.8400, 0.8543.
On the daily chart we can see that the downside move, started on 15th of this month, was actually signaled by the Shooting Star that made a false breakout above the 0.8400 resistance line. Currently the price got to a daily support level at 0.8235. A close on this time frame under this level could trigger a fall to the next Daily Key Support at 0.8100.
NZDUSD, H1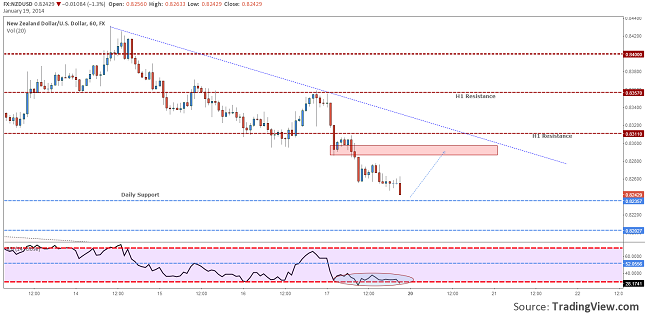 Support: 0.8235, 0.8200;
Resistance: 0.8300, 0.8310.
On the H1 interval it is pretty clear that the NZDUSD is in a downtrend. The last move down has the 14 periods RSI in the oversold area. This could be a bullish signal for the beginning of next week. A break through 0.8260 would confirm a short term reversal that could target the 0.8300 area. The drop could continue but is important to be careful not to be caught in a throw back.
Bullish or Bearish
The investors' sentiment and the US economic releases could be of help in deciding whether   bullish or bearish than the economic releases for the New Zealand. But if we stick to the technical analysis after a retrace I would look for strong bearish signals to enter short. This direction is sustained also by the huge Shooting Star drawn on the weekly chart of NZDUSD, as you can see in the image on the right.
NZD/USD Forecast January 20-24
by
Razvan Mihai