The New Zealand Dollar started 2014 on positive ground in pair with the American dollar. This week's top release is the NZIER business confidence. If you would like to find more, you will find in this article analysis on the fundamental releases and a technical view over the price action of the NZD/USD currency pair.
Last week the NZD started with the left foot, but it managed to recover on Friday after the bad labor market releases from the USA, which pushed investors to sell the US dollar and buy safer assets like the Euro, Japanese yen and the NZD.
This week's economic calendar is low on macro releases for the NZD.
Economical Calendar
NZIER Business Confidence – Monday (21:00 GMT). Scheduled to be released in an hour, NZIER Business Confidence is a level of diffusion based on surveyed manufacturers, builders, wholesalers, retailers and service provider and it is the most important release of this week. Last month reading was of 38.
FPI – Tuesday (21:45). It is a low impact indicator which shows the change in the price of food and food services purchased by householders. Last month dropped with 0.2%.
Technical View
Chart: NZDUSD, Daily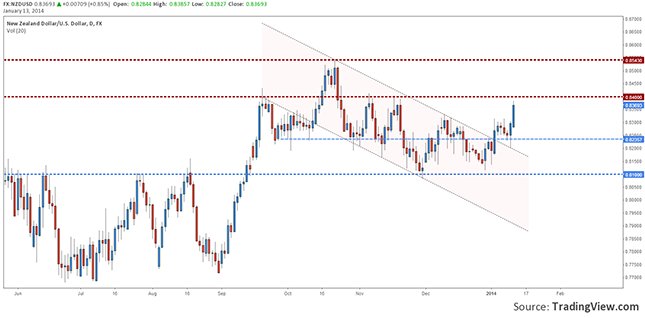 Support: 0.8235, 0.8100;
Resistance: 0.8400, 0.8543
On the daily chart we can see that the price has rallied to 0.8400, which is also the next important resistance, after it broke the down trend channel and retested it. At this point bulls seem to be in control and might put some pressure on the price. A break through the next resistance could open the door for new highs and the new rally could target 0.8543.
Chart: NZDUSD, H1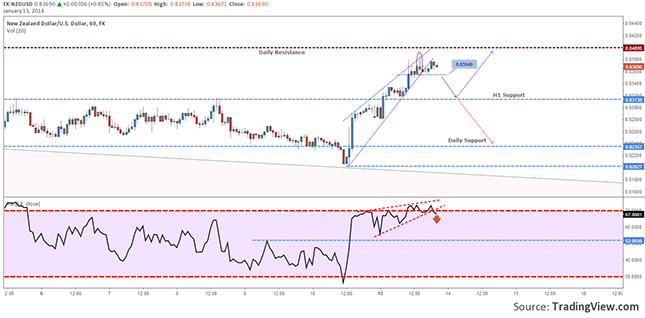 Support: 0.8355, 0.8313, 0.8235, 0.8202;
Resistance: 0.8400;
On the H1 chart, the price action gives some pretty interesting bearish signals. The 14 periods RSI has drawn a rising wedge as well as the price evolution and a Shooting Star pattern has given the high of the day. Presuming that the current trend will continue, the upside move will find a good resistance from the daily chart at 0.8400 (also round number). On the other had a drop under the local support, 0.8355, could confirm the bearish signals and the price might fall back to 0.8235.
Bullish or Bearish?
On the medium term I am still bullish on the NZD. Fundamentals from the US dollar will probably trigger some high volatility and whipsaws but in my opinion 0.8400 will be touched until the end of this week. On the lower time frame I would really keep a close eye over the technical analysis and the bearish signals.
What is your opinion on the "kiwi" evolution this week ?
NZD/USD Forecast For January 13-17
by
Razvan Mihai