Twitter and Apple were in the spotlight last week with the social media company rallying to the best level in a month and the smartphone manufacturer which hit the highest point in a year. The timeline of the events which led to these moves for Apple is the following:
On Wednesday, 4th of December, Apple announced the acquisition of Topsy for 200 million dollars, a company that analyzes Twitter data by allowing users to analyze millions of Twitter posts, helping them figure out trends, identify influential Twitter users and measure the effectiveness of campaigns on the social network. According to The Wall Street Journal, Topsy is one of Twitter Inc. partners that have access to all tweets since 2006.So why did Apple buy Topsy? Or, let me put it this way, why would Apple ever be interested in Twitter's data? Because social media is kind of THE thing at the moment, could be one answer.
Remaining the top U.S. smartphone manufacturer in the October quarter, in a market where 149 million people in the U.S. own smartphones and according to comScore with a market share of nearly 41% bring me to a second answer. In a more challenging mobile and social world in which Apple's stake is threatened by its competitors, the smartphone manufacturer made a smart move adapting to the social media business ecosystem of our days.
Who is the winner of this deal? Both of them, Apple by integrating Twitter within its own software which in turn could be used to boost Apple's own social networking strategy and Twitter by enhancing its image of a growth company and proving it is on right path towards the profits every investor expects from the social media company.
Thursday, 5th of December, was that kind of day when you buy on the rumor and sell on the news. Following a Wall Street Journal report late Wednesday that citing an anonymous source familiar with the matter, said Apple signed a deal for Chinese telecom giant China Mobile to carry the iPhone beginning in mid-December, Apple reached a 52-week-high on Thursday as the iPhone maker's shares rose $10.17 to $575.14.
"We are still negotiating with Apple, but for now we have nothing new to announce," China Mobile spokeswoman Rainie Lei said, declining to elaborate. Apple also declined comment. After all, there was no deal yet and Apple ended the day with a gain of $2.90 a share, closing at $567.90.
Why it is so important that Apple make this deal? China Mobile is the world's largest mobile-phone carrier in terms of subscribers, with more than 700 million. The move would make Apple's latest iPhone models available to a network that has more than 700 million mobile-phone subscribers which translates into big business for the Silicon Valley-based company.
This deal is seen so important by the markets so that on Tuesday, 3rd of December, UBS analyst Steven Milunovich raised his rating on Apple to buy from neutral, and lifted his price target on the company's stock to $650 a share "in anticipation of China Mobile" getting the iPhone. Milunovich said the Chinese government should soon issue licenses for 4G networks, leading to China Mobile adding support for the iPhone in mid-to-late December.
The interesting fact is that two days after the rating change on Apple from neutral to buy, China's Ministry of Industry and Information Technology issued 4G licenses to China Mobile, China Unicom and China Telecom in a widely expected move. So, this China Mobile's 4G TD-LTE license thing paves the way for offering iPhones as Apple's latest models support the standard and also increases the chance for a deal between the two giants.
The Wall Street Journal article from late Wednesday also mentioned that the rollout of iPhones by the world's largest mobile carrier by users is expected to start around the time of China Mobile conference in the city of Guangzhou, which takes place on December 18. Again, these are just rumors, but I can't stop from wonder myself.
Could be China's Ministry of Industry and Information Technology decision to issue 4G licenses for the Chinese telecom giants with two weeks before is made an official announcement regarding the deal between Apple and China mobile just a coincidence? I don't know, but what I do know is that Apple is not dead and buried and it still has the potential to grow its business, the deal with China Mobile being just one opportunity to do that. To continue on this note, Black Friday numbers showed that the iPad was the winner of the day.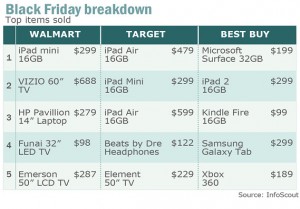 According to the market research firm InfoScout, at Wal-Mart and Target Stores the iPad Mini 16GB and iPad Air 16GB were the top sellers, various iPad products representing 18% of Target's sales and the iPad Mini alone accounting for 6.5% of Wal-Mart's sales on Black Friday.
Online, a research conducted by price-comparison site PriceGrabber.com also showed iPad Air and iPad Mini were the top searched items of the weekend since Thanksgiving.
All these numbers show how dominant Apple still is in the smartphone and tablets industry and prove that those who were singing the demise of this tech giant were so wrong. So, in this context, a China Mobile deal could be the thing Apple needs in order to return to the highs of 2012.
As a conclusion, Apple is gathering momentum and is a Buy for the next three to six months for a couple of reasons. From a historically-macro perspective, December is the second best month of the year for stocks and Apple should perform in line with the stock market indices which hold a 26% gain since the beginning of the year. Of course, this is not a must as the probability of tapering increased in the recent period, but the market's reaction regarding the improving state of the American economy suggests that it takes into account a tapering, but only to take place next year, most probably in March. The other two reasons refer to holyday season spending euphoria and, of course, the possibility of the China Mobile deal, which seems quite probable to happen on 18th of December.
The timeline of the events for Twitter is the following:
On Thursday, 5th of December, Twitter product manager Abhishek Shrivastava, announced in a blog post a new feature, called "tailored audiences," which would help advertisers find and send ad messages to "existing and potential customers" on the social network. How does this feature work? The following example from the Twitter product manager's blog, where has been made the announcement, is aimed at understanding how the feature blends in Twitter's micro-blogging service:
"Let's say a hotel brand wants to advertise a promotion on Twitter and they'd prefer to show their ad to travel enthusiasts who have recently visited their website. To get the special offer to those people who are also on Twitter, the hotel brand may share with us browser-related information (browser cookie ID) through an ads partner. We can then match that information to Twitter accounts in order to show the matched users a Promoted Tweet with the travel deal. The end result is a highly relevant and useful message for the user."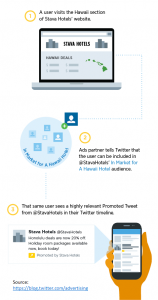 Twitter shares rallied more than 5% on the announcement and touched 46.30$, the best level since the day after the IPO, as the new feature brings hope that San Francisco-based company will explore new ways to cash in on its huge user base of more than 230 million.
But Twitter's "tailored audiences" new feature could spark privacy worries, which is why the company said users can opt out by unchecking the box next to "promoted content" in their privacy settings. Twitter would then "not match their account to information shared by our ads partners for tailoring ads."
Friday, 6th of October, was a day with mixed "feelings" for Twitter. First, we found out that "cashtags" turn tweets into dollars. Celebrities and brands are letting consumers buy products or donate to their charities simply by adding a hashtag like #buy to their tweets.
But how can a simple hashtag lead to a transaction? Chirpify , a company launched last year, lets consumers sign up on its website and once customers enter their personal and credit-card information, when campaigns like Eminem's or Lady Gaga's launch, they can tweet, Facebook or Instagram a specified hashtag and buy items instantly.
The fact is while the tweet-to-buy concept is in its infancy, it is "a growing trend" and some companies and consumers are no doubt intrigued by this concept, but the opinions are shared. The pro's are talking about the easiness of the service, whereas the con's mention the privacy issues which will arrive and that it won't work for a lot of consumers as they will be reticent in sharing their personal information so that they could buy something through a hashtag.
The controversial news of the day was the publication of the letters between The Securities and Exchange Commission and Twitter in which SEC regulators ask the company to explain its unusual patent system in the weeks leading up to its initial public offering.
To cut the story short, "In such event (one of its inventors does leave for another company and uses its patented technology to compete with Twitter), we may be limited in our ability to assert a patent right against another company, and instead would need to rely on trade secret protection or the contractual obligation of the inventor to us not to disclose or use our confidential information," the company said.
The thing is that investors are seeing Twitter's policy as giving engineers too much saying on patents and I think this patent controversy could be a long-term headache for Twitter if they will not take action soon. As a reaction to this news, Twitter' shares lost 0.80$ and closed the day at 44.95$, 5 cents shy of 45$.
As a conclusion, I reassert what I said before the IPO, putting Twitter in a moderately bullish perspective and also seeing it as a Buy and Hold stock for the six to nine months. I'm saying this because Twitter is a young company with very good growth prospects so, if you're looking for growth, go ahead and chase Twitter. Of course, fundamentally speaking, there are losses expected in 2013 and 2014 by most analysts. But, the key metrics of interest here is the 22% and 21% sequential revenue growth shown in the most recent quarters. This is a quite fast growth and it is what investors like and are betting on.
Why Should Apple and Twitter Stocks Be in Your Portfolio?
by
Alin Rauta