At the beginning of December, I said that Apple should be in your portfolio as the company was on the verge on striking a deal with China Mobile. They made the deal, but Apple did not move up as much as expected, on the contrary, the shares kind of stagnated. But, today's earnings report is the moment to show if Apple recovered from the slump it has been last year and it seems that markets' momentum is bullish for Apple once again.
Investors expect the revenues gains to be driven by records sales of iPhones and iPads, which according to Morgan Stanley estimates, would amount to 54 million to 55 million iPhones and as many as 26 million iPads over the quarter. Analysts on average predict profit will grow 8 percent to $10.89 a share on sales of $45.9 billion for Apple's fiscal second quarter, according to data compiled by Bloomberg.
To cut the story short, the fundamental points towards a great holiday season for Apple, which translates into record sales of iPhones and iPads that could turn into an upside surprise and a bullish impulse for the company shares.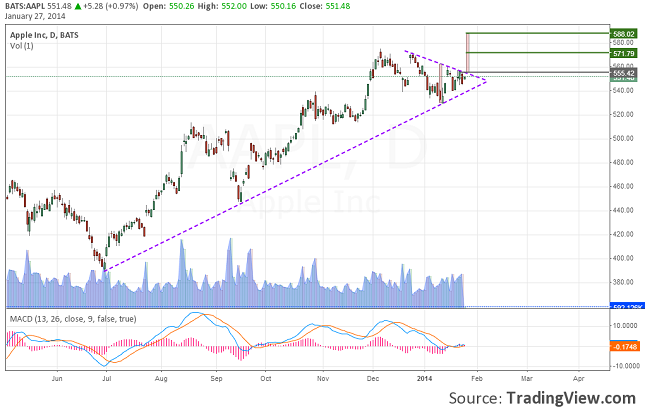 The technical views give us bullish perspectives as well as the fundamentals. On a daily timeframe, a continuation pattern (symmetrical triangle) has been drawn and the price is currently close to the resistance line from $555. I expect that during the regular trading hours, the price to advance or even to surpass the resistance line as in the after-market hours, Apple will report after the closing bell, the price to march towards the first target of the triangle at $571, remaining that tomorrow to build on the potential positive momentum gathered from a better than expected earnings report and the shares to hit a new local high at $588.
Apple – Ready To Make A Bullish Statement?
by
Alin Rauta