Syria is the main subject at the current moment. United States are holding the Syrian government accountable for killing their own citizens with chemical weapons last week. Not only the United States, but also UK and France are blaming Assad for the killings in Ghouta and all of them are willing to intervene.
It didn't take long for protestants to appear. The protests in Libya had a negative impact on the oil production. A shortage in the oil offer brought higher prices for both WTI and Brent oils. But this is just the beginning. Syria itself produces around 164000 barrels a day, so it is not that important for the oil market. But if United States will intervene, here, to get rid of the Bashar al-Assad, the conflict will be ramified and the entire Middle East will be engulfed in a war.
While USA has allies like U.K. and France, the Syrians have their own allies. Iran is a longtime Syrian ally and they warned the US that they will back them up, and they are not alone because Russia is also backing up the Syrians. If only of these two allies would enter a war the price of oil would rally at a fast pace and could touch new highs.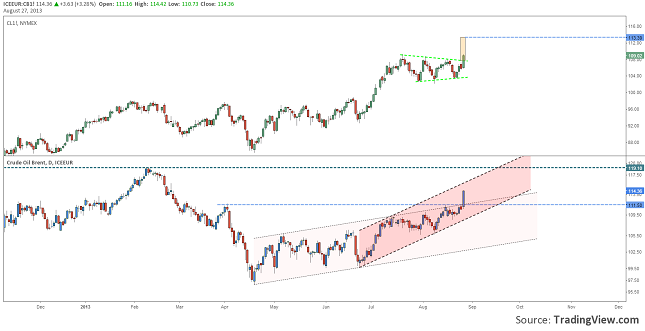 Chart: Brent Oil, WTI Oil (Daily)
For the moment Brent Oil, lower part of the chart, has broken today the rejection line of an up channel and rallied almost 3 percent today, touching the highest level in the past 6 months at 114.42$ per barrel. If today the closing price will be around this level and the United States, U.K. and France would still want to intervene in Syria, we might see the Brent oil going towards 119$ per barrel, since there are no other visible resistance until there.
The WTI has broken the upper line of a symmetrical triangle, which was drawn during the last month. A close of the day above the upper line of the triangle as well as a continuation of this conflict could easily push its price towards the target of the triangle at 113.40$ per barrel.
The probability for the US to intervene in Syrian and to try to get rid of Assad is big. It matters now when and how they will do this.
Syria, an Oil Bomb Ready to Explode
by
Razvan Mihai