For today we have chosen an exotic currency pair because its charts look pretty interesting. The Euro has lost 30% in the past 4 year in front of the Swedish krona and now is trying to recover.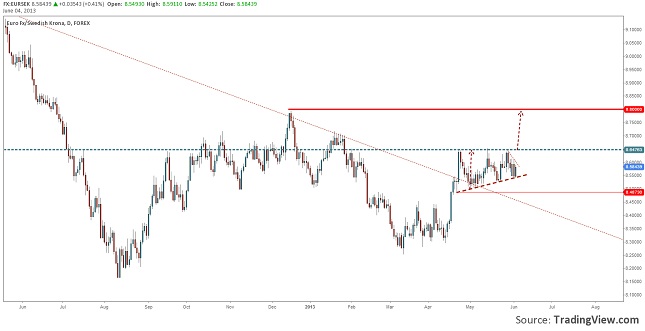 Chart: EURSEK, Daily
The Swedish currency acted as a safe haven for the investors because the country's economy was stable throughout the financial crisis. With each positive signal coming from the Euro Area the single currency gains trust and try to come back from the dip.
On a daily chart we can see that the price has consolidated in an Ascending Triangle pattern with the upper line on the 8.6476 level. This price pattern was created right after the down trend line was broken. If it will be confirmed by a close over the resistance then we can expect for it to rally at 8.80 where it will hit the target and also another important resistance and the best part is yet to come. A break through this resistance would confirm a Double Bottom pattern, but we will come back to it when it will be the case.
On the other hand if the risk aversion will be reinstalled we might witness a drop under the lower line of the triangle and most probable a test on the 8.49 support level.
EURSEK Ascending Triangle Waiting to be Confirmed
by
Razvan Mihai