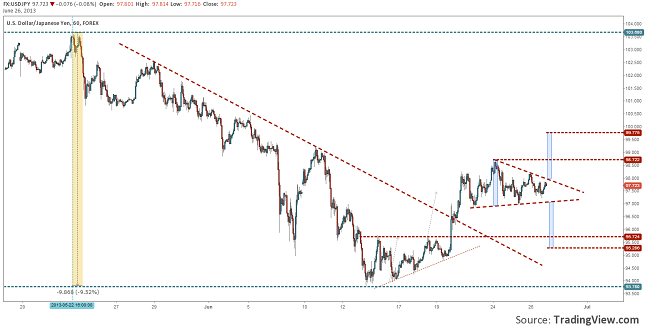 Chart: USDJPY, H1
The Japanese yen started to gain from 22nd of May. Until 13th of June it had managed to appreciate 9.5% in front of the US dollar.
From last week's monetary policy and press conference of the FED, the dollar started being bought by investors because the inflation risk was diminished. The same thing happened also with the Japanese yen. Under the down trend line we can see that the price had drawn an ascending triangle. This patterns target was hit pretty fast, after it the price had broken the trend's line.
Under 99.00 level we can see that another triangle consolidation has been drawn. This time the pattern is a symmetrical one. Talking into consideration that the current is now an uptrend we can expect for the price to break the upper line and rally back to 98.72 peak.  The full target for the upward move sits at 99.77.
On the other hand if the price will break the triangle on the down side, a drop back to the 95.70 support area will become more likely.
FX: USDJPY is Consolidating in a Symmetrical Triangle
by
Razvan Mihai