On our last week Wrap Up 13-17 May USDJPY Up 1.32% we right about a Rising Wedge pattern that it is drawn on USDJPY. Well it needed two more days before the party started and the Japanese yen appreciated as a safe haven asset.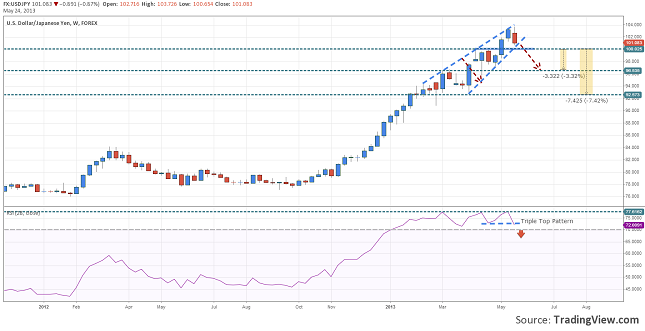 Chart: USDJPY, Weekly
The price of this currency pair dropped suddenly after Bernake testified in front of the Economic Committee and the next morning the fall continued because of the risk aversion triggered by a very low Manufacturing PMI from China.
At the end of the week USDJPY seem to be at the lower line of the reversing pattern. It has right under it very good support zone formed by the lower line of the wedge and from an ex-resistance and round number, 100.00. If it will break this area and have a daily close under it then we can think of a bigger corrective move for the rising trend.
The targets for this pattern are at 96.53, if we are projecting its width and at 92.53 if we take into consideration its base line. The fall might be of 3.3% or of 7.4%.
FX: USDJPY Made a Rising Wedge Pattern
by
Razvan Mihai