What a day! By far, the event of the day was the ECB monetary policy and press conference. During Draghi's speech and while he was answering the questions of the journalists, the EURUSD has moved in both directions. After the end of the event Euro started appreciating and the currency pair was heading for 1.32 hitting the target price for our yesterday's setup Trade Setup EURUSD on Consolidation Breakout.
After a short break from the market, we were surprised to see that EURUSD touched 1.33 and didn't understand why. The answer came pretty fast from EURJPY. It seems that it was not the Euro that was appreciating, the dollar was losing ground. The yen has gained in the last few hours, meaning that there is some risk aversion in the market and this theory was also sustained by other fundamental news and commentaries.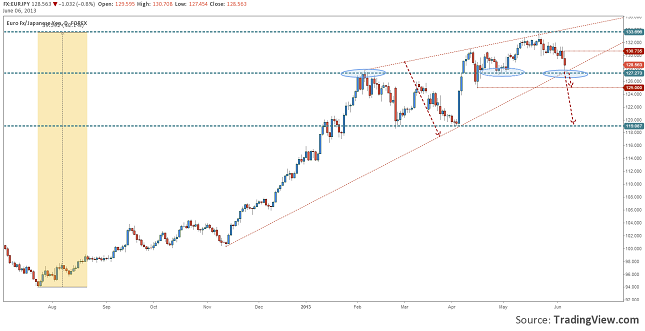 Chart: EURJPY, Daily
Let us get back to the EURJPY chart. If you remember our analysis on USDJPY (FX: USDJPY Made a Rising Wedge Pattern, by the way the target we gave for that analysis was hit today) we were talking about a specific pattern Rising Wedge, which we also found on Euro with the Japanese yen
In 11 months the Euro has gained 40%. The trend is giving now some bearish signals. The last corrective move has stopped at a pretty important zone of the uptrend. First there is the 127.30 support and after that the trend line. If the price will fall and close, on a daily basis, under this cluster then we can say that the pattern is confirmed. The first target for the fall would be 125.00.
On the other hand a loss of the yen could bring the quotation back to 130.75.
FX: EURJPY Rising Wedge, Might be the Expected Correction
by
Razvan Mihai