The American dollar knocks every other currency to the ground. After Ben Bernanke testified in front of the Economic Committee (find more details on our earlier analysis
The Quantitative Easing Program Is Handled With Prudence) the dollar recovered all the losses suffered during the past days.
Chart: AUDUSD, Daily
AUDUSD did not get further than 0.9840. If yesterday we saw equilibrium between the buyers and sellers of the Australian dollar, today it is clear that US dollar was preferred. The 0.9700 local support was broken and now the price it is heading to 0.96. Do not forget that it got out of a huge triangle and it still has room to fall.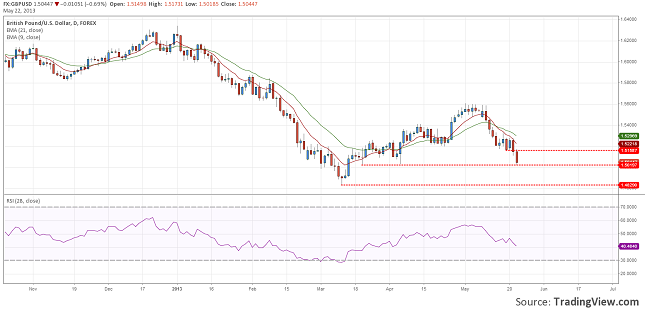 Chart: GBPUSD, Daily
It wasn't enough that Great Britain has its own problems, now the dollar got even stronger. Yesterday the inflation rate were published way under the market expectations, today the Core Retail Sales fell 0.2%. So it is not a surprise that GBPUSD find itself again in a downtrend. The price got back to 1.50 and could fall even more, right back to the 1.4830 low, or why not even lower.
Chart: USDCAD, Daily
If there were any hopes that USDCAD will stop at 1.3010, they are all faded. The price rallied today to 1.0380 and it is headed to 1.0424, the highest level in 1 year. The Canadian economy signals stagnation, while the US economy keeps on giving positive signals. After this pair currency price broke a Falling Broadening Wedge it just flew away.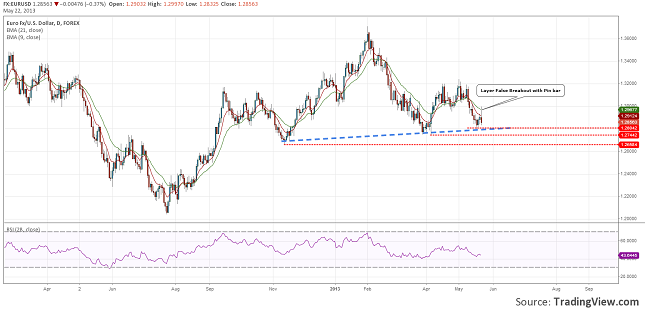 Chart: EURUSD, Daily
Now let's get back to real business. Right at the Head and Shoulders base line the price has consolidated and after that rallied back to 1.3000, but not for long. This up move has proven itself to be just a false hope on a short term basis. If today will form a pin bar with the upper shadow in the layer between the 9 and 21 EMAs then the signals could never be more bearish. For the next two days, until the weekend comes, we might see quite some pressure on the 1.2800 support. If it will be broken, then nothing could stand in the way of the dollar to get this currency pair at 1.2750 or even lower.
FX: The US Dollar is the new Rocky Balboa
by
Razvan Mihai