| | | | | |
| --- | --- | --- | --- | --- |
| EUR | Consumer Confidence | -22 | -24 | -24 |
| USD | Existing Home Sales | 4.92M | 5.02M | 4.95M |
| EUR | French Flash Manufacturing PMI | 44.4 | 44.2 | 44.0 |
| EUR | French Flash Services PMI | 44.1 | 42.3 | 41.3 |
| EUR | German Flash Manufacturing PMI | 47.9 | 49.0 | 49.0 |
| EUR | German Flash Services PMI | 49.2 | 51.1 | 50.9 |
| EUR | Flash Manufacturing PMI | 46.5 | 46.8 | 46.8 |
| EUR | Flash Services PMI | 46.6 | 46.7 | 46.4 |
| EUR | Spanish HPI q/q | -0.8% | | -2.2% |
| USD | Flash Manufacturing PMI | 52.0 | 53.8 | 54.6 |
| USD | HPI m/m | 0.7% | 0.7% | 0.6% |
| USD | New Home Sales | 417K | 416K | 411K |
| USD | Richmond Manufacturing Index | -6 | 3 | 3 |
| EUR | German Ifo Business Climate | 104.4 | 106.4 | 106.7 |
| EUR | Italian Retail Sales m/m | -0.2% | 0.4% | -0.4% |
| EUR | German 30-y Bond Auction | 2.16|1.5 | | 2.45|1.8 |
| USD | Core Durable Goods Orders m/m | -1.4% | 0.5% | -0.7% |
| USD | Durable Goods Orders m/m | -5.7% | -2.9% | 5.6% |
| EUR | Belgium NBB Business Climate | -14.7 | -14.3 | -15.0 |
| USD | Crude Oil Inventories | 0.9M | 1.8M | -1.2M |
| EUR | Spanish Unemployment Rate | 27.2% | 26.5% | 26.0% |
| USD | Unemployment Claims | 339K | 352K | 355K |
| USD | Natural Gas Storage | 30B | 33B | 31B |
| EUR | German Import Prices m/m | -0.1% | 0.0% | 0.3% |
| EUR | M3 Money Supply y/y | 2.6% | 3.0% | 3.1% |
| EUR | Private Loans y/y | -0.8% | -0.8% | -0.8% |
| USD | Advance GDP q/q | 2.5% | 3.1% | 0.4% |
| USD | Advance GDP Price Index q/q | 1.2% | 1.3% | 1.0% |
| USD | Revised UoM Consumer Sentiment | 76.4 | 73.3 | 72.3 |
| USD | Revised UoM Inflation Expectations | 3.1% | | 3.0% |
A full week just passed by. From the Euro Area we had some really weak economic readings, especially from Germany. The PMIs were under expectation; IFO Business Climate came also under the market forecast. Taking into consideration what were the real economic data, we might see that ECB will cut the interest rate at the next monetary policy meeting at 0.5%
The economic data published for USA was also mainly under estimates. Even though the Unemployment claims were better than expected the rest of the indicators were under their forecasts. Core Durable goods and Advanced GDP fell. This was not a bad thing, though; the QE supporters have speculated that with this low economic perspective, FED will keep on pumping money into the market.
Next week we are expecting Monetary Policy Press Conference from ECB and the announcement of the Bid Rate. The ADP Non-Farm Employment Change and the Non-Farm Employment Change will be published for the USA. The week will bring high volatility in the market so keep your stops close.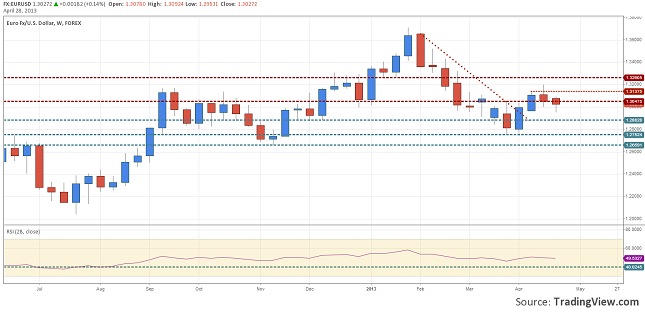 EURUSD was pretty much unchanged, during a week with bad news from both economies. The resistance level, 1.3140, is still in place. If ECB will cut the interest rate, than we might see a sell of the euro that could bring the quotation back at 1.2880. It will be a very hard week to trade, so keep a good eye on the intraday signals and don't forget to check the economic calendar.
Wrap Up 22-26 April EURUSD Down 0.38%
by
Razvan Mihai