USA
| | | | |
| --- | --- | --- | --- |
| Economic Indicator | Actual | Forecast | Previous |
| Building Permits | 0.95M | 0.93M | 0.90M |
| Housing Starts | 0.92M | 0.92M | 0.91M |
| Unemployment Claims | 336K | 343K | 334K |
| Flash Manufacturing PMI | 54.9 | 55.1 | 54.3 |
| Existing Home Sales | 4.98M | 5.02M | 4.94M |
| Philly Fed Manufacturing Index | 2.0 | -1.6 | -1.5 |
The US economy seems to be heading in the right direction. The economic data published last week was inside the forecasted limits with no impressive surprise. At the FOMC press conference, FED's governor, Ben Bernanke, restated that they will leave the Quantitative Easing program unchanged. Even though the signals that are coming from the real economy are better every day, their target remains the unemployment rate. If it will remain over 7%, than we may expect the QE to be in place until 2015.
Next week will start with Fed Chairman Bernanke speech and will continue with other important indicators like: Core Durable Goods Orders, CB Consumer Confidence, New Home Sales, Pending Home Sales, Unemployment Claims, Final GDP q/q and Chicago PMI.
Europe
| | | | |
| --- | --- | --- | --- |
| Economic Indicator | Actual | Forecast | Previous |
| Trade Balance | 9.0B | 10.4B | 10.3B |
| German Zew Economic Sentiment | 48.5 | 47.9 | 48.2 |
| Current Account | 14.8B | 7.9B | 16.0B |
| French Flash Manufacturing PMI | 43.9 | 44.4 | 43.9 |
| German Flash Manufacturing PMI | 48.9 | 50.8 | 50.3 |
| Spanish 10-y Bond Auction | 4.90/1.9 | | 4.92/2.3 |
| German Ifo Business Climate | 106.7 | 107.8 | 107.4 |
Last week Europe's economic calendar doesn't look too good. The only indicator published over expectations was the Current Account. Rest of the data was under the market forecasts. Not that the Cyprus managed to get the bailout. The discussion between Cyprus and Russia fell, so they had to come back to Europe for help. This wasn't easy because not even now they didn't managed to come with a good solution. On 25th of March it is also the deadline that ECB gave Cyprus. If they will not get the bailout until tomorrow, the BCE will cut the emergency liquidity for the countries banks.
Next week we are expecting: Italian 10-y Bond Auction, German Retail Sales and Unemployment Change and French Consumer Spending.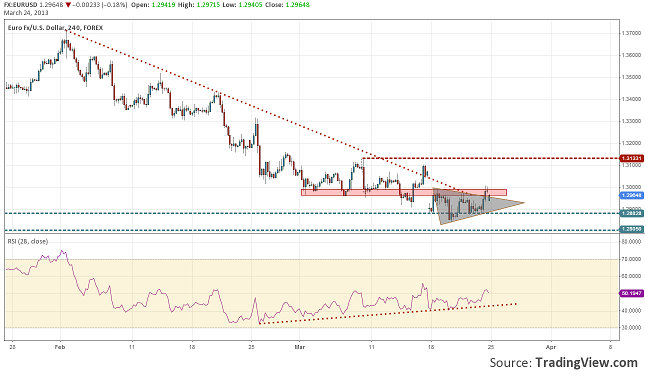 It is not a surprise that EURUSD opened with a negative gap, smaller than the last one but expected by the markets because few hours are left until the deadline and a deal wasn't yet made.
Last week the EURUSD has consolidated over 1.2882 support and managed move 0.64% up, but couldn't close the 150 pips gap made over the weekend. This growth was mainly based on hopes than on real facts if we will take a look at the economic data.
This week's gap is almost closed. If Monday we will see some solutions on the table, than there is a chance for the euro to get back to 1.3060, or 1.31. On the other hand if nothing will happen then a drop under the current support might be imminent.
Wrap Up 18-23 EURUSD Up 0.64% On Hopes
by
Razvan Mihai