USA
| | | | |
| --- | --- | --- | --- |
| Economic Indicator | Actual | Forecast | Previous |
| Core Durable Goods Orders | -0.5% | 0.7% | 2.3% |
| Durable Goods Orders m/m | 5.7% | 3.9% | -4.9% |
| S&P/CS Composite-20 HPI m/m | 8.1% | 7.9% | 6.8% |
| CB Consumer Confidence | 59.7 | 67.9 | 68.0 |
| New Home Sales | 411k | 426k | 431k |
| Pending Home Sales | -0.4% | -0.3% | 3.8% |
| Unemployment Claims | 357K | 340K | 341K |
| Final GDP q/q | 0.4% | 0.5% | 0.1% |
| Chicago PMI | 52.4 | 56.5 | 56.8 |
| Core PCE Price Index m/m | 0.1% | 0.1% | 0.2% |
| Personal Spending m/m | 0.7% | 0.6% | 0.4% |
| Revised UoM Consumer Sentiment | 1.1% | 1.0% | -3.7% |
A full week passed for USA economy, but with a lot of low readings. More than half of the published indicators were under their forecasts but this did not stop the dollar to appreciate in front of the Euro. The week started with Chairman Bernanke's speech at School of Economics in London, where he continued to sustain the QE program. Durable Goods Orders were the only indicator that had a positive impact on the market. It triggered rallies on commodities, especially on WTI oil.
Next week it will be even more interesting. ISM Manufacturing PMI will be published Monday, on Tuesday Factory Orders are expected to rise 3.1% and on Wednesday ADP Non-Farm Employment Change and ISM Non-Manufacturing are expected to create some volatility. Thursday Unemployment Claims are forecasted at 354K and FED Chairman Bernanke is programmed to speak, followed by FOMC Members George and Yellen. Friday it will be the icing on the cake because of the Non-Farm Employment Change (expected at 201K), Trade Balance and Unemployment Rate publications.
Europe
| | | | |
| --- | --- | --- | --- |
| Economic Indicator | Actual | Forecast | Previous |
| GFK German Consumer Climate | 5.9 | 5.9 | 5.9 |
| German Import Prices | 0.3% | 0.2% | 0.1% |
| Italian 10-y Bond Auction | 4.66/1.3 | | 4.83/1.7 |
| German Retail Sales m/m | 0.4% | -0.5% | 3.0% |
| German Unemployment Change | 13K | -2K | 0K J |
| M3 Money Supply y/y | 3.1% | 3.2% | 3.5% |
| French Consumer Spending m/m | -0.2% | 0.3% | -0.9% |
The week, that just past, was not very good for Europe's economy.  The economic data signaled stagnation and the risk aversion pushed euro lower in front of its counterparts. The only good reading came from German Retail Sales which registered a 0.4% growth despite its -0.5% forecast.
Next week should be at least as interesting as for the US economy. Monday it will be French, German and Italy bank holiday and Tuesday will be published German Prelim CPI, Spanish Unemployment Change, Spanish Manufacturing PMI, Italian Manufacturing PMI and EU's Unemployment Rate. Wednesday it is expected a gain of 1.6% in the CPI Flash Estimates, while Thursday volatility is expected to be high on Spanish 10-y Bond Auction, French 10-y Bond Auction and as for the main events we will have the Minimum Bid Rate published followed by ECB Press Conference. The week will end with Retail Sales and German Factory Orders publications.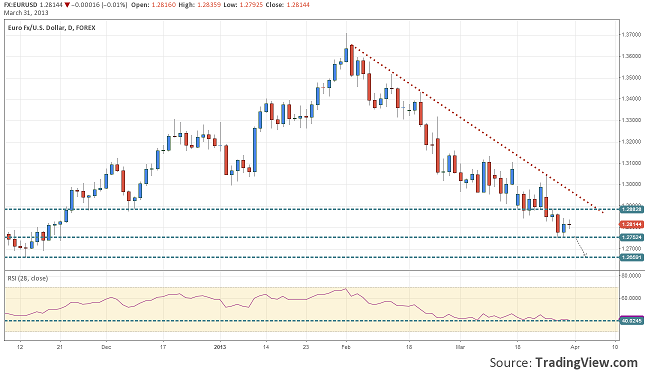 EURUSD found local support at 1.2752 after 1.33 percent fall. After a redrawing of the down trend line we can say that it is a high probability that the current trend will continue. A drop under the support might stop only at the next key level from 1.2660. This fall might be signaled by a drop under the 40.02 support level on the RSI. Key resistance for a possible rally it is found at 1.2880.
Wrap Up 24-29 March EURUSD Dropped 1.33%
by
Razvan Mihai