The quarterly earnings report season is back and promises a hell of surprising moves in the markets. These days the banking sector was in the center of the attention with Bank of America, Goldman Sachs, Morgan Stanley and Citigroup reporting on duty. The first three did pretty well and managed to beat Wall Street's expectations while the latter was last week's biggest disappointment in the sector, missing top- and bottom-line expectations.
Today we have in full focus one of the tech giants, International Business Machines, which have been rallying in recent weeks, mirroring the broader market advance. One of the hottest recent news about IBM is its announcement of a $1.2 billion effort to significantly grow its cloud footprint from 40 data centers worldwide in 15 countries and five continents globally, meaning that IBM reasserts its iconic technological leadership one more time in an ever increasing competitive marketplace.
The consensus EPS forecast for the quarter is $6.01 and I think that any EPS which is even slightly better than the consensus can be a catalyst for hitting the $200 mark, technical analysis being the reasoning behind this hypothesis. On a daily chart, the price has made a Double Bottom, broke the resistance line from $186, retested it and now is heading towards the first target at $195, the whole price target of the reversal pattern being the $200 level. So, if the price closes Tuesday above the $195 level on a daily time frame, there are very high chances that by Wednesday, the $200 mark to be hit.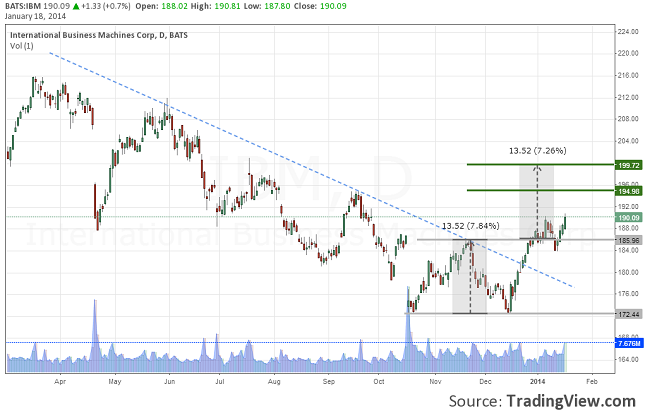 Can IBM Gain 5% In Two Days?
by
Alin Rauta