With the dollar on appreciating in front of its counterparts, the price of Gold started to plunge. Bearish signals started to appear on XAUUSD's chart from yesterday.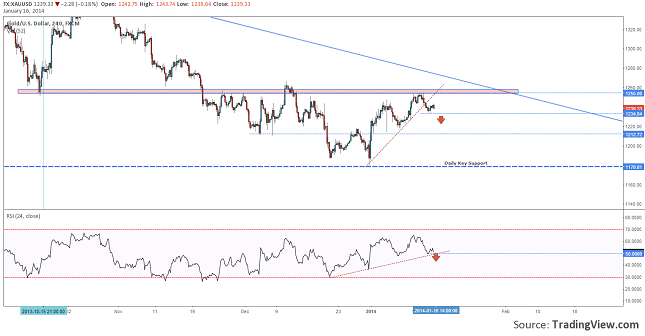 Support: 1234.04, 1212.72, 1178.81;
Resistance: 1255.00, Trend Line;
On 14th of July the price has broken the latest op move trend line which is the first bearish signal. During the past hours, bulls try to send the price higher, but it seems that they didn't have enough strength and now bears are pushing down. If the 24 periods RSI will break it trend line then it will be another bearish signal.
The drop could become more probable if the price will fall under the local support from 1234.04. The price target for a downside move will be the next support from 1212.17. On the other hand if bulls will take over again we may expect for the 1255.00 resistance to be retested only if the local 1243.50 high will be broken.
GOLD Signaling a Short Term Drop
by
Razvan Mihai