From the low hit on 7th of November the Euro started to rise in front of the US dollar, getting itself back around 1.3550. Although both the current Fed governor, Ben Bernanke, and the future one, Janet Yellen, sustained that the US economy still needs the QE at its full speed it wasn't enough to keep the dollar on a down trend. Today the ECB mentioned in a statement that they are willing to get to negative rates if necessarily to help the Euro Area economy and that ended in a drop in the EURUSD.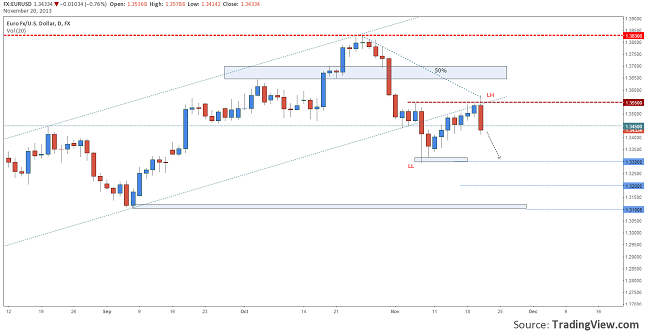 Chart: EURUSD, Daily
From the technical point of view the current situation looks a bit bearish. The retest on 1.3550 was also a test of the 50% retrace of the drop and a retest on the earlier broken trend line. Today's fall managed to engulf the price action of the last 5 days signaling heavy selling of the Euro.
We are expecting to see a continuation of this drop all the way to 1.3300, support level or even a continuation of the down move to 1.3200. Even though on the short term the direction is down don't forget to keep an eye, especially if you are a day trader, on the economic releases which might trigger high volatility and sudden reversing moves.
Short Term Technical Forecast for EURUSD
by
Razvan Mihai