Do you remember our last article on Bitcoin? It was right after Silk Road has fallen and the BTC dropped suddenly 20% because it has lost some demand. But the story didn't stop here. This digital currency became of interest for speculators when Cyprus was in a really big problem. The instability of the economy increases the demand for the BTC.
After Silk Road we said that it might go sideways and eventually down. But it was the other way around. After several days the US government announced partial shutdown. This has created a big risk aversion in the markets and speculators saw the opportunity to buy again the digital currency as a safe heaven or just to get our some profits from its volatility.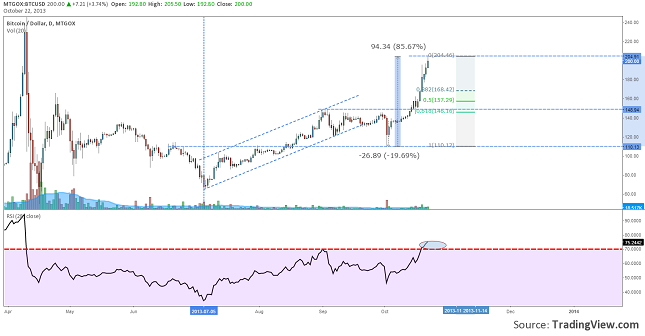 Chart: BTCUSD, Daily
BTCUSD (the Bitcoin/US Dollar currency pair) has gained 85% from the first days of October. Today it reached the high of the last six months above 200.00. If we take into consideration the technical analysis, from here traders should be very attentive to the corrections. The 28 days RSI has moved above the 70 level, signaling an overbought market and the volumes are not that high.
A daily close under the 200.00, round level, followed by a candlestick pattern could signal the start of a corrective move. The target for it could be a Fibonacci retrace of 38.2 or even 50% of the last up move.
When Nobody Believed, Bitcoin Rallied 85%
by
Razvan Mihai