This week, as I wrote in the last article (What is Programmed in the Forex Calendar for Next Week?), the volatility for the Forex market might go through the sky. EURUSD can become one of the hardest currency pair to trade for the rest of the week. The debt ceiling problem from the United States, the ECB Press conference and the US Non-Farm Employment Change from Friday are the main events of the week.
Leaving aside economic data, let's take a look over the technical analysis of this pair. From 6th of September started the last up move which ended after a 3.5% win for the European single currency. The main resistance from 1.3450 was broken after the FOMC meeting and the price touched a high at 1.3565.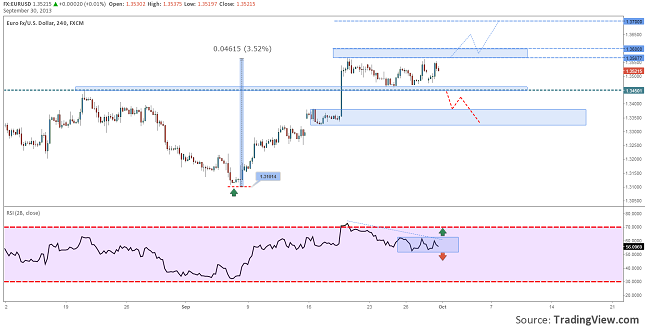 Chart: EURUSD, H4
The price started a rectangle consolidation between 1.3460 and 1.3465. The range might continue until the ECB press conference from Wednesday, especially if there will be no surprises from the Congress regarding the debt ceiling.
If the price will break the upper area and close on a daily basis above 1.3600 we could expect a rally to 1.3700, from my opinion a bit difficult in the current context. On the other hand if the market will panic and safe heavens will be bought, or the ECB will surprisingly drop the interest rate lower, we might see a down fall under 1.34500 all the way to 1.33.
If you are trading EURUSD it would be best to keep an eye over the economic calendar and an eye over the news regarding the debt ceilings. As for the technical analysis look for clear signals and don't forget what you see and not what you think you see.
EURUSD Technical Overview before the ECB Press Conference
by
Razvan Mihai