Tesla is the company that shined lately by its impressive results. Not only that its sales increased more than expected, but also the profit on shares beat expectations by far. On 15th of July Tesla was included in the Nasdaq 100, index that tracks the largest companies on the exchange. The place was freed by Oracle which moved to the New York Stock Exchange.
Thursday, August 08 2013, the Nasdaq 100 Index rose, driven by gains in the technology sector. In this respect, Tesla Motors Inc brought its substantial contribution as it jumped 14.2% to $153.46 a day.
Early this year, Tesla started to glitter by proudly announcing the first quarter on profit in its ten years' history. Immediately in May, its shares passed the 100$ threshold, now being established around the value of $150/share. Reporting the financial situation on 7th of August 2013, the second quarter was closed with $746 million in cash. The main sales market is the United States while is considerably expanding in Europe and Asia where it intends to open more service locations. China and Japan are expected to be major importers of these cars. After the steep increase registered so far, things are expected to calm down a little bit but by the end of each quarter of this year, profits are expected to be reported, sustaining the increasing trend that Tesla is following lately.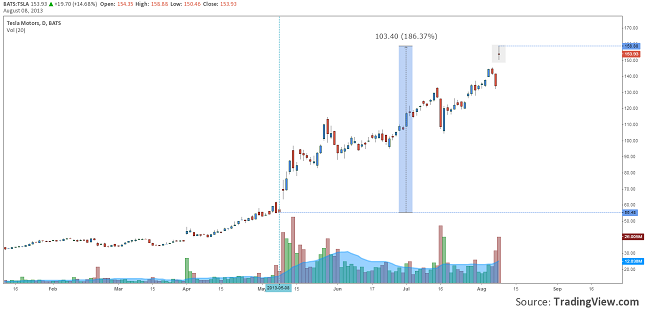 Chart: TSLA, Daily
Look How Well It Goes Tesla Motors Inc!
by
Silvia Gabor