Interval: Daily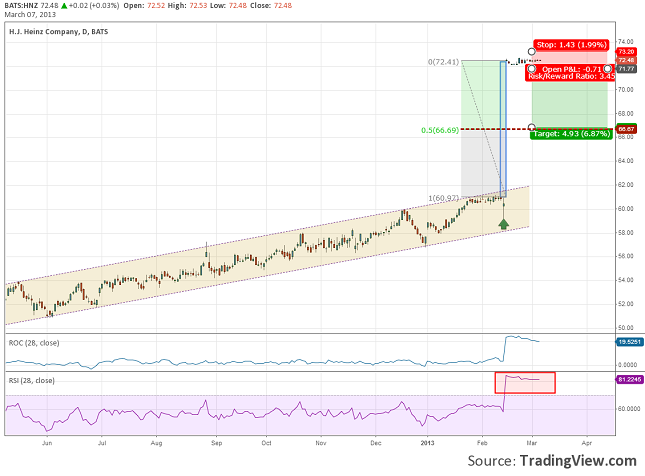 Last year Heinz had realized a good profit after the sales went up to $11.6 billion. Now they are looking overseas for growth and are betting on the emerging markets, expecting a quarter of the company's sales this year to account on them.
Their results attracted Warren Buffet and its partner on the deal (3G Capital, the investment firm that bought Burger King in 2010) to invest $23.3 buying Heinz. This news has sent the price of the shares from $60.5 up to $72.5 at the opening of 14th of February. Meaning  a 20% growth in an extremely short period of time.
From the technical point of view, we can see the up channel with a moderate degree, and after that a 12 dollars gap which have sent not only the price in the clouds but also the ROC (Rate of Change) and the 28 period RSI in the mega overbought zone.  Even though it has been a good news for the investors, the up move can't be sustained for a long time now on without a correction.
This setup is triggered if the price will fall back under 71.80. The Stop loss would be set over the latest tops at 73.20 and the Target at the 66.70 level, meaning a 50% fill of the gap. The risk/reward ratio it is pretty good, 3.45.
NYSE: Heinz Trade Setup After 20% Jump
by
Razvan Mihai