A very interesting week has just passed. The economic data had come mostly above expectations once again.
The service PMIs were all above expectations from the Euro Area. France Manufacturing PMI came above expectations, German's was under the forecast and the one for the entire Euro Area was in line with expectations. ZEW Economic Sentiment was lower for Germany and above expectations for Europe.
From the US real estate we had a lower Housing Starts indicator but a very good Existing Home Sales. Another surprise was the Philly Fed Manufacturing Index that was estimated at -0.6 and was published 12.5.
Again the economic data seems to be equilibrated, but still the dollar had gained 1.69%. This happened after Ben Bernanke said that they plan to adjust the Quantitative Easing program by the end of 2013 and end it by 2014 if the economy will go as expected. This news had boosted buys for the greenback and made investors to go short on stocks. The capital market fell drastically after this announcement.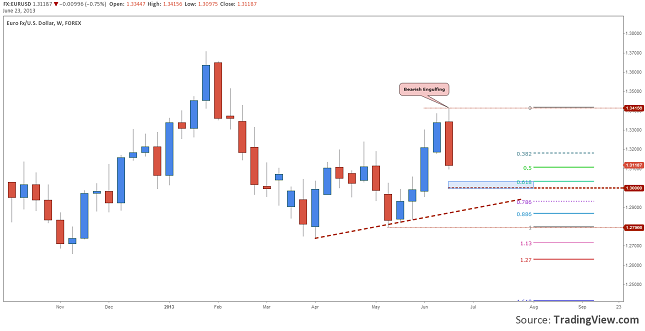 Chart: EURUSD, Weekly
The same story told from the technical analysis point of view is something like this. EURUSD dropped almost 2 percent last week and we can see an interesting candlestick formation, Bearish Engulfing. This could announce further falls for the euro. The price has stopped for the moment at 50% retrace from the up move. The uptrend would still be in place until the 1.2800 low will broke. Another support area it is found at the 61.8 Fibonacci retrace, near 1.3000.
Wrap Up 17-21 June EURUSD Down 1.69%
by
Razvan Mihai