Another week has passed and the single European currency has continued to gain in front of the US dollar, even though the economic releases were quite balanced.
Europe reported a very good industrial production, above expectations. France surprised also with a 2% growth above the analysts forecasts. USA reported stagnation in this sector, but better retail sales, it gained 0.6%. The US Unemployment claims dropped at 334K and it was better than expected ad better than the previous number.
The inflation reports showed a Core CPI of 1.2% for Europe, in line with the forecast, and a Producer Price Index of 0.5%, 0.4% above expectations, for USA. Last week was closed with the release of the UoM Consumer Index. This indicator was pretty disappointing because it dropped to 82.7.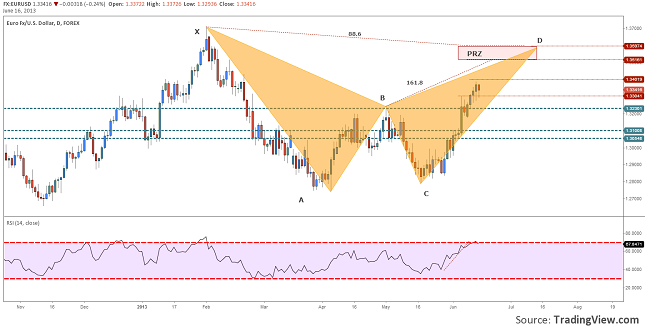 Chart: EURUSD, Daily
The technical analysis looks a little bit better than the macroeconomic one. Last Sunday the price set under 1.33 and we were thinking about a Bearish Bat with the PRZ between 1.35 and 1.36. Today the price is under 1.34. If it will break this barrier too, than the probability for the PRZ to be hit will be higher.
Wrap up 10-14 June EURUSD up 1.15%
by
Razvan Mihai