Interval: Daily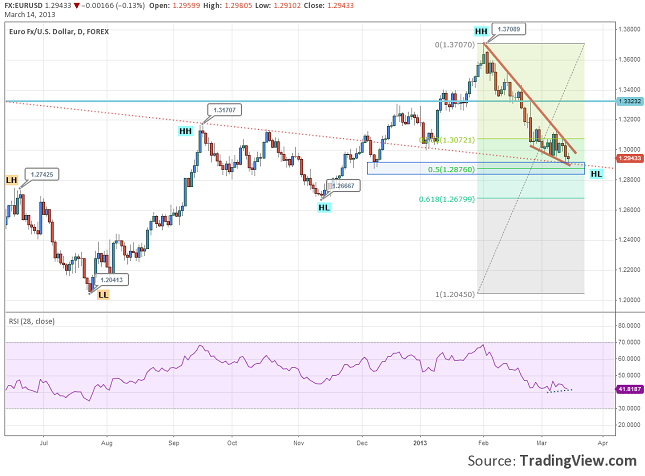 On the daily chart it is obvious that the uptrend is still in place. The last low did not get to 1.2665 and higher highs were made.
At this point things seem to get a bit confusing between the signals given by the technical analysis and the ones given by the fundamentals. Looking to compare the economies, we can say that for the moment USA's economy is stronger and advances fast, and Europe doesn't look to good.
Yesterday we saw that the European industrial production has fallen at -0.4% from 0.9% last month, meaning that the recession danger grows for this quarter. On the other hand the data published for USA was very good. Retail sales grew  0.9% from last month, hitting 1.1% and the import prices got to 1.1%. Today the Unemployment  Claims fell unexpectedly by 10.000 at 332k and the Producer Price Index has hit the expectations at 0.7%, up 0.5% from last month.
This very good USA publications strengthen the dollar, and sustaining the downtrend. EURUSD has touched today a three months low at 1.2980. The current fundamentals are saying still down.
The technical view is a bit different. It signals a possible reversal. The price got near a very good support zone formed of the 50% retrace of the full uptrend,  the 1.2878 support level and the base line of an older Inverted Head and Shoulders. The RSI 28, has drawn a small divergence. Price action signals fatigue from the sellers. All this might trigger a reversal, but we still need a confirmation.
The question is "What now?". We have different directions given by the two types of analysis. My answer would be "wait and see".
It would be difficult to pick a direction right now so it would be wiser to wait for confirmations. New publications and releases for the fundamental analysis. And for the technical we can wait for a close over 1.31 for bullish confirmation, or a close under 1.2876 (50%)  for a trend continuation.
FX: EURUSD Something Smells Fishy - Technical Up Fundamental Down
by
Razvan Mihai