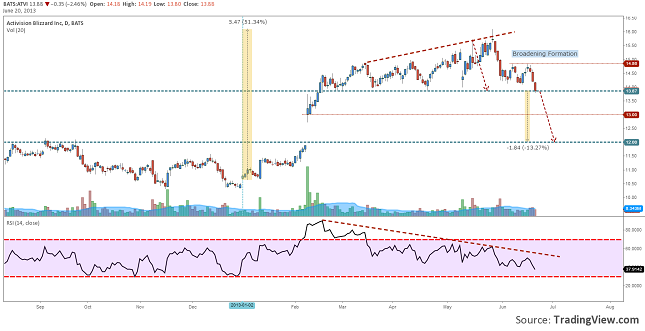 Chart: ATVI, Daily
Activision Blizzard Inc. (ATVI) is a worldwide publisher of online, personal computer, console handled and mobile interactive entertainment products.
From January 2013 the stock's price gained over 50%. From March price continued to gain but at a slower pace and started to consolidate in what now we can see as a Broadening Formation. This pattern is usually found in distribution areas and signals a reversal of the uptrend. This type of Broadening is just like a descending triangle turned 180 degrees.
If the price will close under the support line of the pattern, which is 13.90$, we might see a drop that will close the gap made in February. For the target to be met, the price should fall more than 13% to get at 12.00$ per share. An intermediate support can be 13.00$ per share.
A false breakout on this support can be also a good signal for traders. If the price will close above the support line, or an Engulfing pattern will emerge on the support, we can expect a short rally back to 15.00$ per share, or why not, even farther.
Activision Blizzard Inc.(ATVI) Drawn a Broadening Formation
by
Razvan Mihai