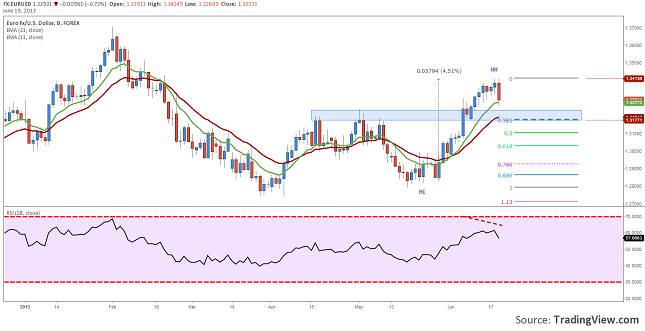 Chart: EURUSD, Daily
From the beginning of this month Euro has gained 4.5% in front of the US dollar. After it broke above 1.32 the trend became unstable and buyers didn't have enough strength to break 1.34.
Ben S. Bernanke helped today the dollar to gain back a little over 100 pips after he said that the Quantitative Easing program will be tempered until the ending of this year, and shut down in 2014 if the economy will signal recovery and will go towards FED's forecast. No QE, lower risk of inflation, dollar up, EURUSD down.
Even if this day will close as it is, would it be enough to say that the trend has ended? I don't think so, not yet. We still have higher highs and higher lows; the price is still above the 11 and 21 days EMA layer. If this isn't enough, we will go on and say that in the same layer it is also found the round level 1.3200 and 38.2 Fibonacci retrace.
These are enough to think that we have a very good support area and it will be pretty hard for EURUSD to be in a free fall. If this will be just a corrective move, then the smartest thing to do is to wait for the reversal signal/confirmation and act.
Is it really EURUSD in a Free Fall, or Just a Correction?
by
Razvan Mihai