Interval: Daily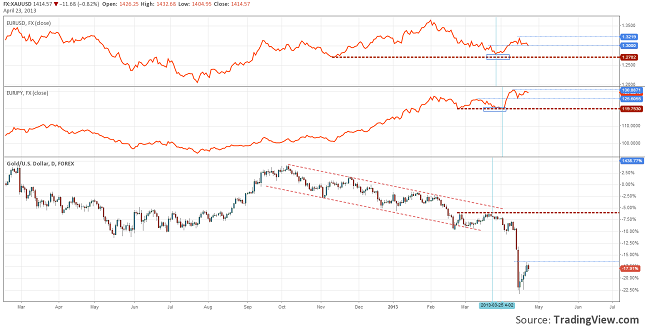 Remember this chart? We have used it in the past when gold was bought because of the risk aversion triggered by the Cyprus problems.
Well, the Double Bottom was not confirmed for gold, and the price fell, followed after several days by a rally for EURUSD and EURJPY. At this point we can see that the price of the precious metal recovered while EURUSD dropped back to 1.3 and EURJPY could not make another high. This might be the first signals for another plunge for the Euro.
If EURUSD will close under 1.3 and EURJPY will fall back to 125.50 than we can expect the safe heavens (Japanese yen, US dollar, Gold) to be bought.
Are you a medium term trader? Pay attention to more than just on signal, even though you are using only technical analysis or only fundamental. This way you will increase the probability to have a positive outcome.
Is EURUSD Preparing For A Down Move?
by
Razvan Mihai