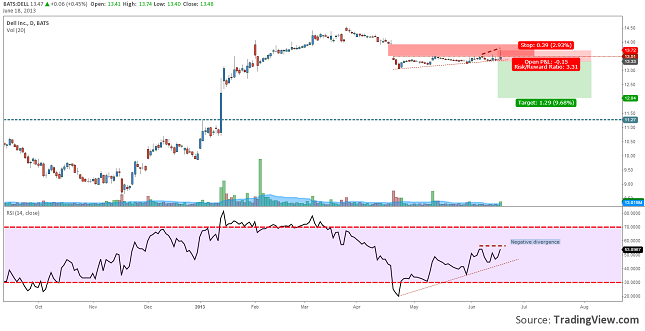 Chart: DELL, Daily
Do you also find Dell a boring stock? Well for the past 2 months it has moved in a 40 cents range. In my opinion this market remained calm enough time and we might be surprised in the near future.
Looking at the price action of the stock I saw the resistance at 13.50/51. Buyers tried to move up and cover the gap April 18th, but seller came right back and pushed the price back under the resistance. This can only mean that the bears are still stronger.
Keeping in mind this and seeing that the 14 days RSI barely touched the 50 level and made a negative divergence might just be enough to think at a bearish trade setup.
We have the signals, we just need the confirmation. My confirmation would be a drop under the local support from 13.35. This might trigger other sell orders or even trigger the buyers stops and collapse the price back to 12$ per share.
Trade Setup on Dell Inc. Targeting a 10% Drop
by
Razvan Mihai