Campbell Soup Company (CPB) is a manufacturer and marketer of branded convenience food products. It has a market cap of 15.03B and 314.17M shares. Its last earning reports were over expectation, 0.70 cents per share, and it will report  again next Monday. Its earnings are estimated at $0.56.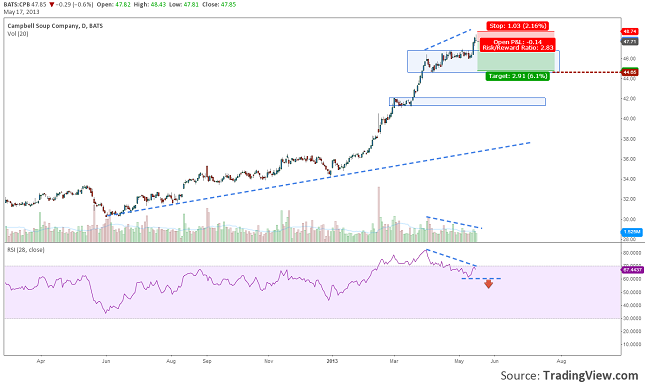 Chart: CPB, Daily
This setup is based mainly on technical analysis. We are expecting a short retrace before continuing its trend. The signals are bearish if we are looking at the 28 days RSI, which have made a divergence with the price. But this is not all, the latest up move started on 9th of April was made on lower volume, meaning that the demand has fallen.
If the price will drop under $47.70 level we could see a 6% fall. This would mean that the $44.65 support level will be tested.
Confirmation Level: 47.70
Target Level: 46.70
Stop Loss: 48.74
Trade Setup Campbell Soup On Divergences
by
Razvan Mihai