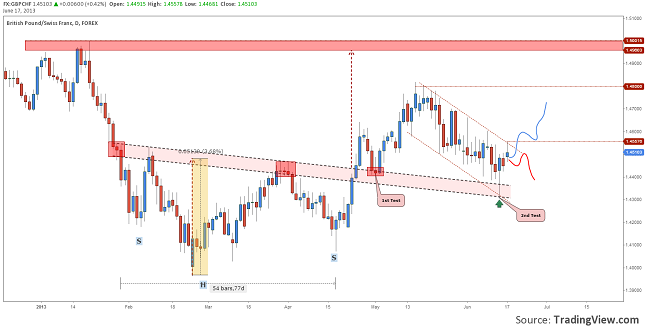 Chart: GBPCHF, Daily
During 77 days, from the 30th of January to mid of April, the price of GBPCHF has been in an accumulation area. Here an Inverted Head and Shoulders was formed. The price pattern was broken and confirmed in the middle of April.
After the price broke the pattern's base line, it came back and retested the area. Another rally took place, and new highs were hit around 1.4800. From there a down trend has started which can be limited by to parallel lines. Meaning the down trend is actually a down channel, which brought the price back to the baseline testing it for the second time. In this area we can see a pretty impressive Hammer which announced a bounce.
Now we can set up some conditions and parameters to forecast the future price movement. Our favorite scenario would be a break above 1.4560 which would trigger new rallies that will get the price back to 1.48. Above this level new highs are to be made until 1.5000.
Our backup scenario would be triggered if a daily close would go under 1.4400. In this case the target price would be 1.43.
FX: GBPCHF Takes a Second Test on the Head and Shoulder's Baseline
by
Razvan Mihai