At some point there were some bigger hopes for the EURUSD to continue the uptrend, which was started in July 2012. Don't get me wrong, there still are because everything it is possible, but looking at the economy and at the evolution of the price, I would say that the signals are pretty bearish.
Europe remains in recession, as the latest GDP shows a drop of 0.2% in the economy (see our last article Europe Producing Less). It seems that no improvements are signaled, even though ECB is expecting a growth in the second half of this year. With the latest economic readings and a low inflation rate, the central bank could reduce again the interest rate and add more monetary stimulus, resulting in a further drop of the single currency.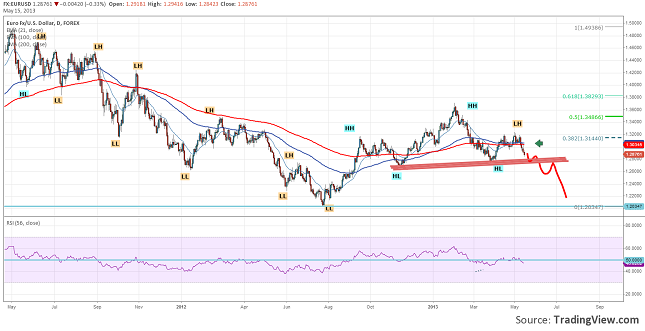 Chart: EURUSD, Daily
Looking at the technical indicators, we can say that there is a high probability for the EURUSD to drop under 1.27 again.
-          The price action is drawing a Head and Shoulders pattern which will be confirmed if a the price will close under 1.2750, on a daily basis;
-          The 56 days RSI retested the 50 level and now it turned back to the downside;
-          The combination of 21 EMA, 100 EMA and 200 EMA shows a pretty good cluster and seems that they will remain above the price.
During the next days or even during the next week or two there is a possibility to have a short bounce from the support area before an actual break.
FX: EURUSD is Drawing a Head and Shoulders
by
Razvan Mihai