Interval: H4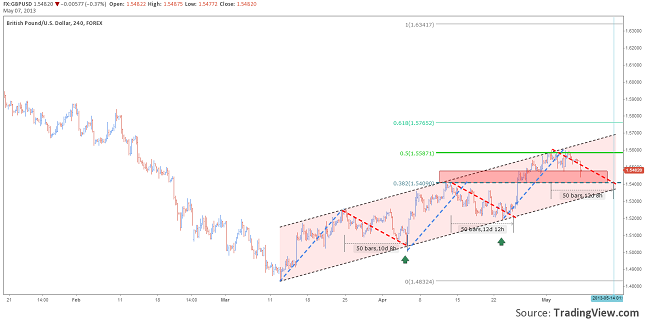 The British pound has started an uptrend on 12th of March and it kept on going for almost 2 months.
Looking at its chart we can see that the trend has moved inside a channel and respected some patterns. The first two corrective moves needed around 50 of 4 hours bars to be finalized. Besides the overlapping they have the same length.
The second corrective move has started after a rejection from the 38.2 (1.5410) Fibonacci retrace of the full down trend. The last impulse might have been ended at the 50% retrace of the downtrend. It is about the same length as the first two. This might just mean that a new counter trend move has started.
Counting 50 bars from the first top, we will see that a possible reversal might occur around 14th of this month. If the pattern will remain unchanged, it is possible that the price to hit 1.54. At this price it will touch an important support area formed by the round number, ex resistance, and the trend line.
At this moment we are waiting for three scenarios:
The price will hit the support area around 1.54  and give a reversal signal;
The price will fall back to the support area and break under it;
The price will come back to the resistance and break it before the end of the 50 bars count.
Another scenario would be for the price to consolidate in this current zone. In this case we should wait for a clear breakout signal.
FX: GBPUSD Might Have Started a 12 days Correction
by
Razvan Mihai