Canada
| | | | |
| --- | --- | --- | --- |
| Economic Indicator | Actual | Forecast | Previous |
| Foreign Securities Purchases | 13.4B | 7.85B | -1.92B |
| Manufacturing Sales m/m | -0.2% | 0.7% | -3.3% |
| Core Retail Sales m/m | 0.5% | 0.4% | -1.0% |
| Retail Sales m/m | 1.0% | 0.6% | -2.3% |
USD with the Canadian dollar was little changed. From Canada the economic data published this week was unexpectedly good. Foreign Securities Purchases grew at 13.4 billion; Core Retail Sales and Retails Sales also surprised the market with good publications and the only economic indicator that came lower than expectation was the Manufacturing Sales.
Canada's currency gained on Friday for a third day against the U.S. counterpart as commodities rose, especially because a rise in the price of Oil. The up move in the commodities was triggered by speculation Cyprus is moving closer to a deal regarding the bailout.
Next week important data will be released for the economy of the country. In the first part of the week the CPI reports will be published and in the second part the GDP and the RMPI.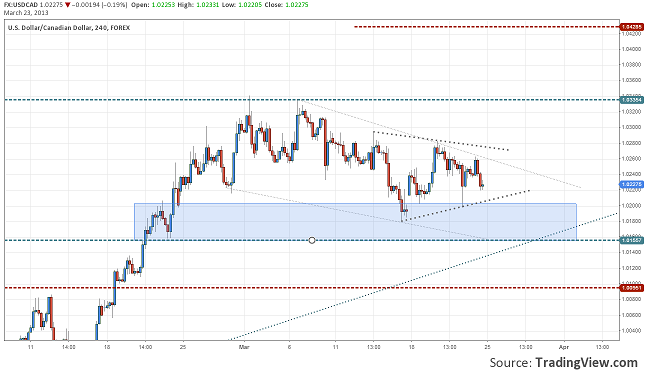 From 13th of March the price has consolidated in a symmetrical triangle which has the upper limit at 1.0280 and the lower limit at 1.0180 resulting in a 100 pips range. If next week's fundamental indicators will be published on the positive side we can expect for the CAD to break the lower line of the triangle and head for 1.0155 support.
USDJPY, GBPUSD and EURUSD Wrap Ups will be published tomorrow.
Wrap Up 18-23 March: USDCAD Only 0.12% Up
by
Razvan Mihai