We came back from the holidays full of energy for the year ahead, first of all we wish you a wonderful new 2014, full of success and good trades. Same like us, investors are also coming back from their holidays and this can be seen in the rising volume and the lower volatility from the Foreign exchange market.
Around NYE, it seems that the low volume made possible for the FX instruments, especially EUR/USD to have some interesting moves: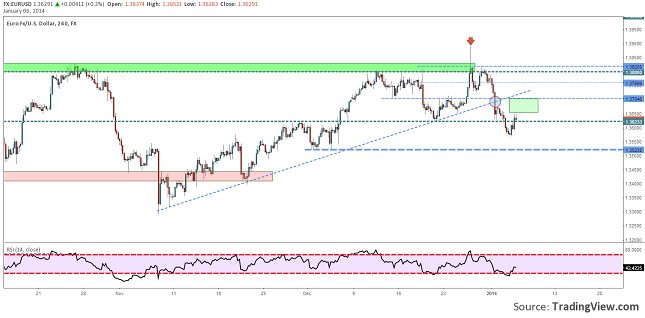 Let us start with the most traded currency pare, which we mentioned earlier EURUSD. It closed on 2013 under 1.3800 and this meant that bears still have some fighting power left. During the first trading days it dropped all the way to 1.3600 and this week dropped even lower, hitting 1.3572.
Today there were some interesting publications in the economic calendar. The German Prelim CPI was in line with the expectations, 0.4% rise, Spanish Services PMI rose the a 6 year peak, 54.2, Italian Services PMI slightly rose to 47.9 from last month's 47.2 and the Europe Sentix Investor Confidence rose the most in the past 3 years, hitting 11.9.
The United States reported today the ISM Non-Manufacturing at 53.0, lower with 0.3 points from las month, and the Factory Orders up 1.8%, which was in line with the expectations.