Today on the European session the economic data was pretty mixed. While France reported both manufacturing and services flash PMIs under estimates, Germany and Italy surprised with Manufacturing PMIs above expectations and Services PMIs under. The European Trade Balance is up to 14.5B euros, but was published lower than expectations.
At the EU Parliament in Brussels, Draghi announced that the ECB is waiting for a slow pace recovery of the economy, reflected also by the low inflation. Still he also said that the EU economy should benefit from rising export demand. The ECB president is well aware of the downside risks of low inflation and confirmed the fact that the Central Bank is ready to act.
United States released today the Revised Nonfarm Productivity, which rose by 3.0 percent, Manufacturing PMI (54.4, lower than estimates), TIC Long term Purchases went up to 35.4B, the Capacity Utilization Rate rose by 79% and the biggest surprise, the Industrial Production which rose with 1.1%, well above the estimates of 0.6%.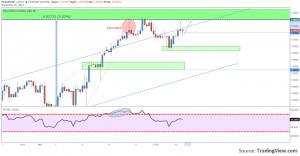 EURUSD couldn't breach 1.3800. After it touched 1.3797 earlier today, the price action defined a pretty nice Shooting Star on the H4 time frame. The signal was already confirmed and the Euro started to drop and touched a local low at 1.3750. It has reacted more volatile after the Industrial Production was published for the United States and stood almost unchanged while Mario Draghi was having his speech. From the technical point of view, there are higher chances for the price to get back to 1.3800 in the next several hours.
The Dow Jones Industrial Average dropped in the first half of December back to 15700 where it found a past resistance that was turned into a support. We are expecting a bounce from here back to 15900, because the price reached a pretty interesting demand zone and the fundamental data sustains a rise in the DJI price.
European Wrap Up, ECB is Aware of the Risks
by
Razvan Mihai