The most important event of the day was by far the publishing of the FOMC meeting minutes. Investors were waiting for details regarding Quantitative Easing. Fed's Evans, Fisher or Pianalto are expecting a tapering of the QE on September, especially if the economic data would signal an economic recovery of the US.
On these meeting minutes the officials agreed on the fact that the QE should be tapered this year, but it was nothing said about September. So  even though investors did not get a clear point in time when the QE will be reduced, they understood that the good economic data may lead to a modification of the program this year.
The indexes, Dow Jones Industrial, S&P500 and others continued their down move. This reaction was also seen in the EURUSD quotation. After hitting 1.3450 the price of this currency pair dropped back around 1.3350 signaling that EURUSD is not yet prepared for a rally above 1.34.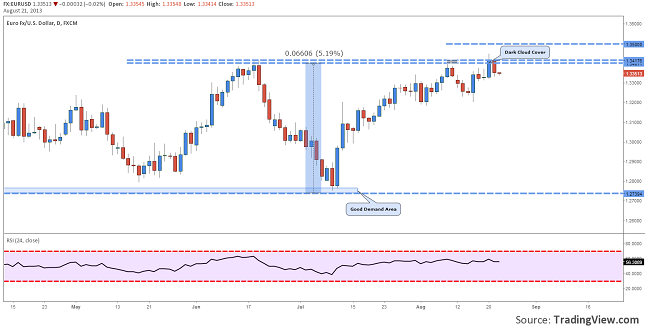 Chart: EURUSD, Daily
From the technical point of view a Dark Cloud Cover can be seen on the candlestick chart at 1.34. This is a bearish signal which could result in a drop back to 1.33 or even 1.32 till the end of this week. The only positive signal would be a daily close above 1.34.
FOMC Disappoints again, QE Tapering is a Dilemma
by
Razvan Mihai