In the first week of June, Mario Draghi said that ECB will keep the interest rates at record low for an extended period of time and there are arguments for it to be cut even more. In the same week, on Friday the Non-Farm Payrolls surprised the market with a value above all forecasts. The dollar got stronger and stronger, managing to get the EURUSD quotation under 1.2800.
The story does not end here. Last week, the second week of the month, were published the FOMC Meeting Minutes and Ben Bernanke had a speech titled "A Century of US Central Banking: Goals, Frameworks, and Accountability". Investors were disappointed to see that, in the minutes, there was no date from which Fed will start tapering the monetary easing program. The full attention was moved to Ben's speech, but nothing was said about any dates. This time the dollar started to lose and in several hours EURUSD got back over 300 pips.
Next week Ben Bernanke will testify on the Semiannual Monetary Policy Report before the House Financial Services Committee, in Washington DC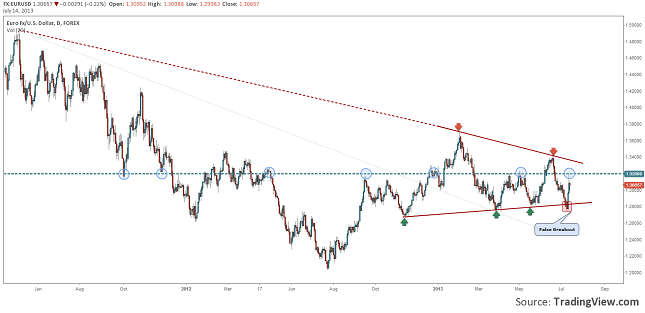 Chart: EURUSD, Daily
Looking at the price action of EURUSD we can say that it wasn't ready to break out from the consolidation pattern, which is actually a symmetrical triangle.  The lower boundary is around 1.28 level while the upper one sits at 1.34. The main axis, as it can be seen on the chart, is 1.3200. This level seems to be the equilibrium one.
If the price breaks above 1.32 we can expect for it to test the upper line of the triangle, while if it drops or remains under the pressure rises on the lower line of the pattern.  This currency pair will remain sensible to the economic data published from the United States and will the volatility will increase during the speeches of Mario Draghi and Ben Bernanke.
EURUSD Was Not Yet Ready for…
by
Razvan Mihai