In almost 2 years the price of Baidu.com Inc. (BIDU) shares has fallen 50%. This way correcting the rally started in November 2008 and ended in August 2011 with a 1400% gains.
Its new plans are to buy PPStream and erge it with their existing video platform, iQivi, creating this way its own version of YouTube. More it has been heard they would like to bid for the Sougou search engine, one of its main competitors.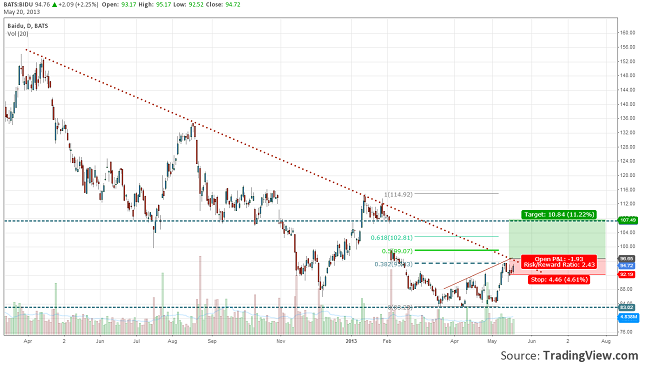 Chart: BIDU, Daily
Looking at the current price action we can see that the price got back to the down trend line and seem to be hesitating. A new rejection from the line could bring the price back down to $83.00 per share, or maybe push it even lower. On the other hand a break through the zone, created by the trend line, the 95.00 round number and the 38.2 Fibonacci retrace, might just be the trigger for the price to get back to $110.00 per share.
Confirmation Level: 96.65
Take Profit Level: 107.50
Stop Loss Level: 92.19
Trade Setup Baidu.com Inc. on Trend Line Breakout
by
Razvan Mihai