Japan
| | | | |
| --- | --- | --- | --- |
| Economic Indicator | Actual | Forecast | Previous |
| Trade Balance | -1.09T | -1.01T | -0.74T |
| All Industries Activity | -1.4% | -1.1% | 1.6% |
The yen had a pretty good week. It has gained in front the US dollar but also in front of the Euro and CHF. The economic calendar was almost empty but the most important indicator for last week was the Trade Balance which came at -1.09 trillion yens.
The markets were expecting from the new BoJ governor, Kuroda, details on the monetary policy that he will adopt, when he held the press conference on Thursday.  But this didn't happen so the yen was bought and the Nikkei225 fell. Investors are waiting for new monetary stimulus. Kuroda will satisfy the markets if he will announce a 15T yens easing. Under this quantity it might disappoint and could make his work even harder.
Next week we are expecting a growth in the retails sales for Japan; household spending to drop at 0.4% and unemployment rate to be maintained at 4.2%.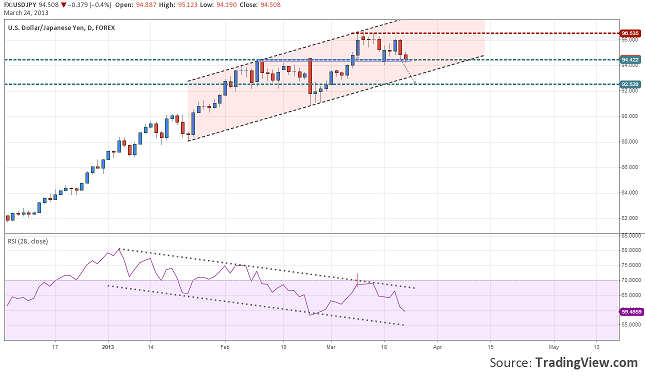 From the technical point of view we can say that there is space for the yen to gain some more. The USDJPY quotation retested the 94.42 support. A daily close under this might confirm the double top pattern which has the price target around 92.50.
There is a big possibility that this week's opening to be with a negative gap like it happened last Monday because of the Cyprus problems.
Wrap Up 18-23 USDJPY Down 0.78%
by
Razvan Mihai