Interval: Daily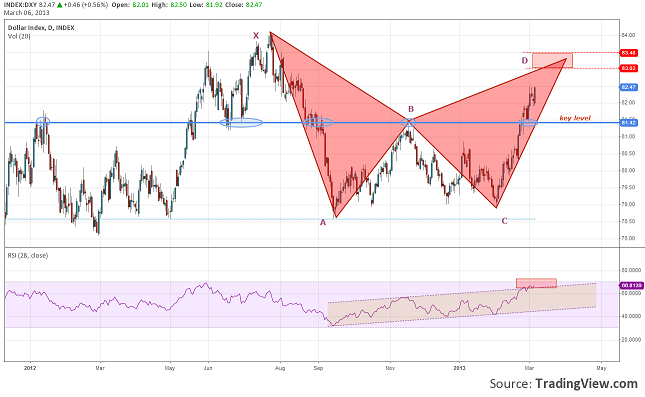 Looking at a daily chart, we can see a straight up move that started at the end of January. The price went through the 81.42 key level and after that retested it. Now it is on an open road to a Bearish Bat PRZ that is situated between 83.00 and 83.48.
This up move that is in place right now it is sustained also by the economic data that came from the United States. Yesterday the ISM Non-Manufacturing PMI was published at 56.0, over the estimates of 55.0. Today the ADP (number of jobs added in the private sector) was well over the estimates at 198k, and the Factory Orders are down at -2%, better than -2.2% expected.
If tomorrow the Trade Balance and the Unemployment Claims indicators will come on positive grounds, then we might see the price going straight to the D point zone, meaning inside the Potential Reversal Zone of the harmonic pattern. From there it is a matter of price action confirmation. The RSI is really close to its overbought zone, and a price pattern formation or a candlestick pattern would confirm a reversal.
Don't forget to keep an eye on the website for new posts and updates, and also for the Weekly Fundamental Wrap Up during the weekend.
Dollar Index Heading for a Bearish PRZ
by
Razvan Mihai