Interval: Weekly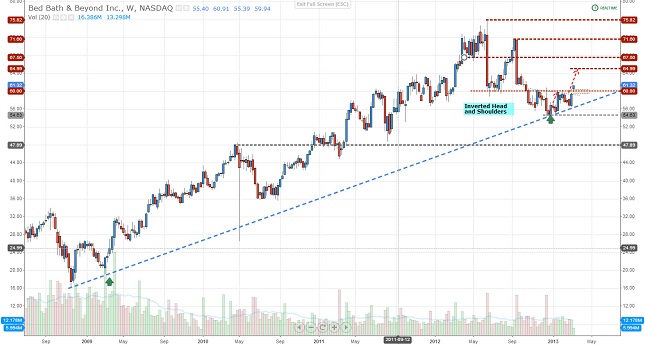 Bed Bath & Beyond Inc. (BBBY) is a chain of retail store and they are selling  usually domestic merchandise. The chain includes 1,173 stores in 50 states, some of them are Puerto Rico and Canada.
The company is occupying now #251 spot in S&P500, after taking McGraw-Hill Cos.'s place. It's market cap is now 13.43 billion dollars. From a Reuters analysis it seems that BBBY shares have the potential to rise as much as 25 percent over the next year. This growth would mainly be based on strong profits. If world economy will start to pick up speed, especially in USA then this up move is pretty credible. And it is likely to attract the interest of some private investors, or even Berkshire Hathaway Inc,  which will buy premium shares,
Looking on the price action evolution we can see that it has touched the uptrend's line, after falling 22.6% from its latest high, touched in June last year. At the trend line the price has formed an Inverted Head and Shoulders, one of the most used reversal pattern. The price pattern was not only drawn, but also confirmed by a Breakaway Gap which got the price over the formation's base, but also over the 60$ key resistance.
The targets for the up move are 65$ (the Inverted H&S target), 67.50$ the next resistance, 71.60 and 75.85 (the last top but would also mean a 25% growth from the current price).